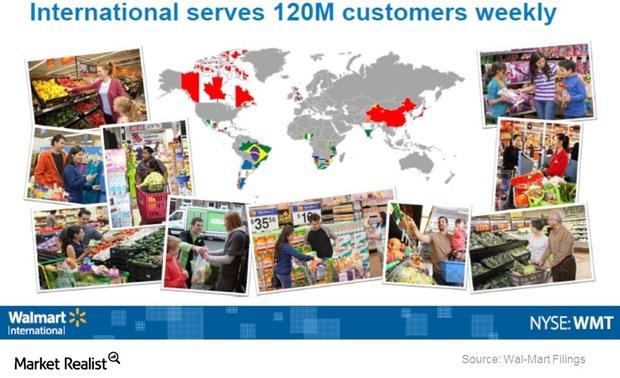 Who's The Greatest Retailer Of Them All? – Walmart
Walmart's International segment
Walmart's International segment consists of the company's operations outside the US. This is Walmart's (WMT) largest segment in terms of store count. The company has operations in 26 countries overseas—including Canada, Mexico, China, the United Kingdom, Brazil, and India, among others.
Walmart's International segment accounted for 29.1% of net sales and 17.7% of operating profit in fiscal year 2014. The segment has stores modeled in both the retail and wholesale store formats. These include discount stores, supermarkets, supercenters, hypermarkets, websites, wholesale warehouse clubs, and cash-and-carry stores, among others.
Article continues below advertisement
Article continues below advertisement
Competition
Walmart is among a select group of global retailers (XRT) (RTH) competing in a variety of store formats, including hypermarkets, around the world. Other multinational companies include Carrefour SA (CA.PA) (CRRFY) in France, Metro AG (MEO.DE) (MTTRY) in Germany, Tesco (TSCDY) (TSCO.L) in the United Kingdom, and Ahold (AHONY) in the Netherlands.
However, Walmart dwarfs all of these companies. Walmart's total sales were almost five times the sales of the other companies nearest to it in the last 12 months—Tesco and Carrefour SA.
In terms of market cap, Walmart is almost ten times the size of Tesco and 12x the size of Carrefour SA.
Leveraging key strengths
Walmart's key unique selling proposition, or USP, remains its ability to leverage its everyday low price, or EDLP, strategy. The strategy is particularly relevant in emerging markets. It's also becoming relevant in mature markets like the United Kingdom.
The United Kingdom is facing a tough discounting environment. This led deflationary pressures in the industry. The company plans to convert all of the markets to EDLP over the next few years. Another key strength is the ability to effectively operate its food departments—compared to other retail companies.
International versus the domestic market
Walmart's International segment is growing faster than its other two segments. Revenue grew at a compound annual growth rate, or CAGR, of 7.3% between fiscal year 2009 and 2014. Since fiscal year 2010, 75% of the new store additions were in the International segment.
However, the domestic market is more mature. The overall industry growth rates are higher overseas—compared to the US. Walmart needs to look at international markets to significantly grow revenue and earnings.
Walmart is seeing a $5.5 trillion growth opportunity in retail from 2014 to 2019[1. Euromonitor International]. The company has a "be in good businesses" strategy. This includes doing business in those markets, products, and formats. This would provide a higher market share and superior returns.