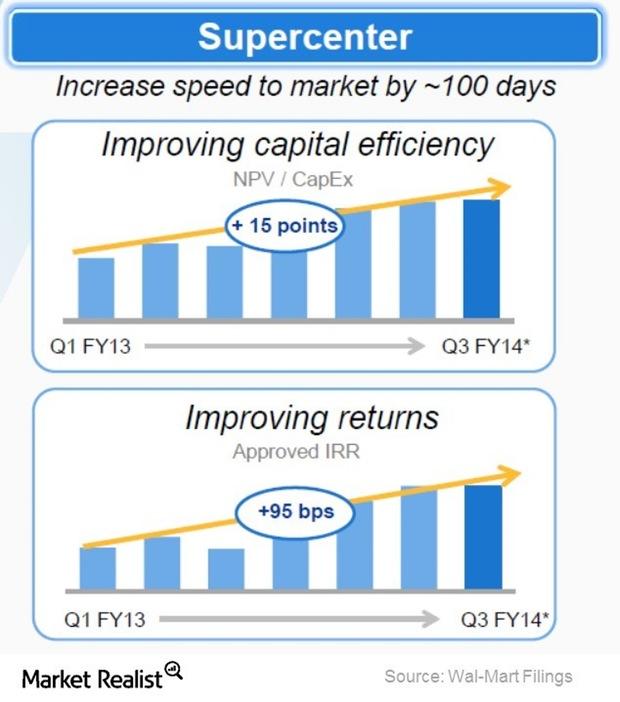 Walmart's Capital Strategy – Smaller Stores And Supercenters
Capital strategy
Walmart's (WMT) capital strategy going forward will be to deploy a little-changed capital expenditure base. It's also looking to expand small-format stores and supercenter footprints. It plans to convert mid-sized stores to supercenters. It wants to purchase efficiencies while leveraging its "We Buy For Less" productivity loop.
The company embarked to aggressively minimize the capital cost per square foot of retail space with the aim of faster payback on investment. It wants to increase the net present value, or NPV, and internal rate of return, or IRR—key yardsticks for measuring investor returns. The company aims to do this by:
Article continues below advertisement
Article continues below advertisement
Concentrating on Neighborhood Market and small-format stores in locations with a higher population density—for example, urban areas. In these areas it will take less time for the stores get off the ground—due to their smaller size. The stores average 40,000 square feet in size. Walmart increased the speed to market for the neighborhood format stores by ~50 days. This resulted in increases in NPV and IRR.
Smaller-format stores also generate significant volumes. Smaller stores have also been consistently registering comps growth. The faster payback and higher volumes spurred the company to embark on an aggressive expansion program. It plans to add 240 new small-format stores in fiscal year 2015. It plans to add 200–220 stores in fiscal year 2016.
Walmart shuns the mid-sized discount store
One of Walmart's major initiatives is converting its mid-sized discount store format to the larger supercenter format. The company converted, expanded, or relocated ~734 discount stores to supercenters from fiscal year 2007 to fiscal year 2014. About half, or ~250, of the remaining discount stores are currently being evaluated.
Besides converting discount stores to supercenters, Walmart wants to expand the superstore format's footprint. Around 120 new supercenters are projected in fiscal year 2015. Another 60–70 supercenters are projected in fiscal year 2016. This includes converting existing discount stores into supercenters.
The company's plan to efficiently deploy capital increased the speed to market for supercenters by ~100 days. It increased the NPV and IRR for projects.
Investors can gain exposure to Walmart by investing in the SPDR Consumer Staples Select Sector ETF (XLP). Walmart has an ~7.5% weight in XLP. Investors can also access Walmart through the iShares S&P 100 (OEF) with an ~1.2% weight, the SPDR Dow Jones Industrial Average ETF (DIA) with an ~3.1% weight, and the SPDR S&P Retail ETF (XRT) with an ~1% weight.