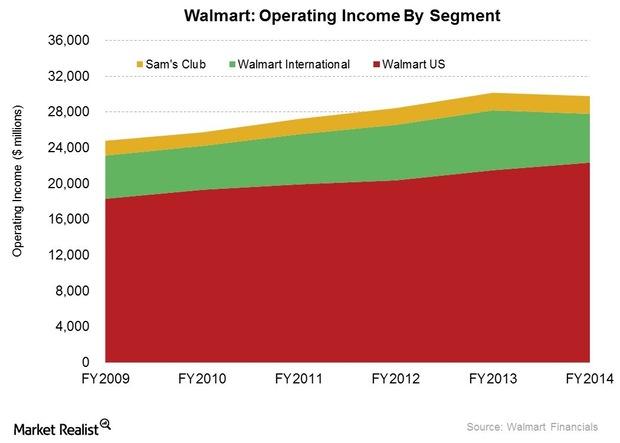 Walmart Is Looking For Growth In International Markets
Walmart's International segment
Walmart (WMT) is the world's largest retailer. Its operations span 27 countries—including the US. In fact, the retailer (XRT) has more stores overseas than it does in the US. The company reported 6,189 stores in its International segment—compared to 4,987 in the US in 3Q15. The United Kingdom, Canada, Mexico, Brazil, and China are the five largest markets for the retailer.
Article continues below advertisement
Competition
In its international operations, Walmart faces competition from other multinational and local supermarket and hypermarket chains including Carrefour SA (CRRFY) (CA.PA) in France, Metro AG (MEO.DE) in Germany, Tesco (TSCDY) (TSCO.L) in the United Kingdom, Loblaw Companies (L.TO) in Canada, and Ahold (AHONY) in the Netherlands.
High growth and low profitability
Walmart's international revenue is growing fast. International revenue grew at a compound annual growth rate, or CAGR, of 7.3% from fiscal year 2009 to 2014. It grew to ~$136.5 billion. That makes the International segment the fastest growing revenue segment. Overall, Walmart's revenue growth came in at a slower 3.4% over the period.
However, the International segment's total revenue and operating income trails the US operations. The International segment's profitability is also lower. This is partially due to high front-end costs involved in driving expansion efforts overseas. It's also due to the merchandise mix. In the trailing 12 months through 3Q15, the operating income margins came in at 3.9% for Walmart's International segment—compared to 7.6% for Walmart's US segment.
Growth drivers
Recently, operating income growth outpaced sales growth. While sales rose by 2.9% on a constant currency basis in 3Q15, operating income rose 5.2%. Walmart plans to increase the International segment's percentage contribution to revenue and operating income growth through expansion in stores and e-commerce. The retailer is also looking to emulate its "Everyday Low Prices" and "Everyday Low Costs" strategies abroad—in a bid to establish price leadership and gain market share in newer markets.