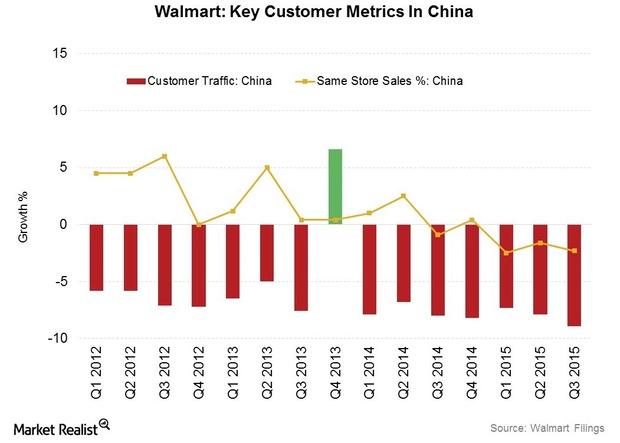 Why Walmart Isn't A Heavyweight In China
What plagues Walmart's operations in Asia?
In Asia, Walmart (WMT) is primarily targeting the key markets—China, India, and Japan. These markets present the world's largest retailer (XRT) (RTH) with an opportunity to drive higher future growth in sales. Walmart operated 431 stores in Japan, 403 stores in China, and 20 stores in India—as of December 31, 2014.
Despite the growth opportunities, Walmart came two steps forward, only to move back a step in several major markets in Asia.
Article continues below advertisement
Article continues below advertisement
China doesn't deliver the goods
In China, Walmart faced stiff competition from local retail chains—like Sun Art Retail Group Ltd. and China Resources Enterprise Ltd. This affected same-store sales and store traffic for Walmart in China.
In 2013, Walmart closed 29 underperforming stores in China. It also announced a revamp. It planned to open 110 new stores in focused geographies. There are a few positives. The growth in Walmart's e-commerce channel in China is outpacing the growth in the overall industry.
Last November, Walmart announced a management shakeup in China. This resulted in the exit of 30 executives. The move comes during management changes in the US, Latin America, and other parts of Asia—including India.
Walmart's China operations have also been investigated by the DOJ (U.S. Department of Justice) and the SEC (U.S. Securities and Exchange Commission) due to possible violations of the FCPA (Foreign Corrupt Practices Act).
Asia is a bumpy ride
Exiting unprofitable markets isn't new for foreign retailers operating in Asia. In 2006, Walmart exited the South Korean market. It sold out to a local competitor.
Last year, Tesco (TSCO.L) (TSCDY), based in the United Kingdom, announced it was exiting China. Tesco sold a majority stake in its retail business to China Resources Enterprises—a local retail chain operating under Vanguard. The latter is one of Walmart's main competitors in China. Revlon (REV) is another consumer firm (XLP) that recently announced its exit from China.