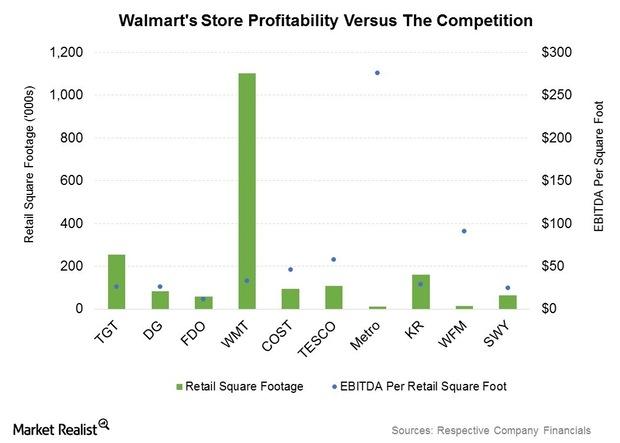 Walmart: When Big-Box Retail Embraces Small
Analyzing Walmart's retail model
Walmart (WMT) operates retail (XRT) and wholesale stores. The stores are located in the US and 26 other countries around the world. The company operates stores under 71 different banners under an everyday low price, or EDLP, strategy. It also retails products through websites in the US—www.walmart.com and www.samsclub.com—and several key markets overseas. Store formats include:
supercenters
discount stores
small-format stores – including Neighborhood Market
membership warehouse clubs
hypermarkets, retail websites, warehouse clubs, restaurants, and apparel stores in overseas markets
Article continues below advertisement
Store expansion
Worldwide, Walmart's store count was estimated at 11,156 stores as of October 31, 2014. There are 4,987 stores, or 45%, in the US[1. Including wholesale segment Sam's Club]. The net store count increased by 2,740 stores from fiscal year 2010[2. Fiscal year ending January 31, 2010] to October 31, 2014. It increased ~33%. It's important to note that ~75% of the net new store openings were outside the US.
Store profitability
Costco's (COST) profitability margins trail Walmart—refer to Part 20 in this series to learn more. However, Costco earns a higher EBITDA (earnings before, interest, tax, depreciation, and amortization) per square foot—compared to Walmart. In its last fiscal year, the EBITDA per square foot came in at ~$46 for Costco—compared to $33 for Walmart.
Costco's sales per square foot are nearly three times higher at $1,211—compared to $438 for Walmart. Costco operates as a wholesaler. It sells in bulk. This increases its sales metrics. However, it impacts its margins. Margins are typically lower in the wholesale segment.
The metric is even lower for companies like Target (TGT) and Dollar General (DG). Target's sales metrics declined in recent quarters. Target clocked massive losses in its Canadian operations.
Walmart's profitability per square foot also trails international retail companies—Metro AG (MEO.DE) in Germany, Tesco (TSCDY) (TSCO.L) in the United Kingdom, and Ahold (AHONY) in the Netherlands. These companies clocked an estimated $276, $57, and $644, respectively, of EBITDA per square foot in the last fiscal year.
Walmart established several initiatives to optimize its capital deployment and improve its store profitability. We'll discuss this in more detail in the next part of this series.