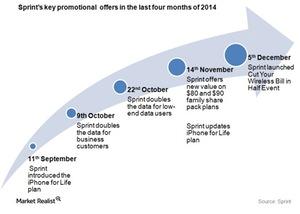 Sprint ramps up promotional efforts to expand customer base
Increased promotional activity with iPhone 6 aims to capture subscribers
Sprint (S) continued its aggressive sales and marketing efforts to retain and acquire customers. According to Sprint's management, these efforts helped the company achieve high sales volumes, particularly in the months of November and December.
The launch of Apple's (AAPL) iPhone 6 in September, just before the holiday season, was one of the key drivers for Sprint's increased promotional efforts during fiscal 3Q14. As you can see in the figure below, the iPhone for Life plan jump-started the company's promotions in September 2014.
Apart from Sprint, large carriers such as AT&T (T), Verizon (VZ), and T-Mobile (TMUS) resorted to price promotions to expand or conserve their customer base during the period. Please read Verizon sees price competition among telecoms rise in 4Q14 to learn more.
As an investor, you may take an exposure on the US telecom space through the Vanguard Telecommunication Services ETF (VOX), which held 48% in these four telecom companies at the end of 2014.
Article continues below advertisement
Sprint's Cut Your Bill in Half event further pushed December sales
Sprint launched its Cut Your Bill in Half promotion in December 2014 for customers of AT&T and Verizon. Initially, the promotion was a limited time offer, but after its success in December, the company extended it until the end of 2015. Marcelo Claure, Sprint's CEO (chief executive officer) and president, mentioned at the Citi conference that the program was doing well in January 2015.
As the name suggests, Cut Your Bill in Half offers customers the option to move to Sprint's plan and pay half of what they were paying for a data plan before to another US telecom player. Customers also get unlimited domestic voice and text services with the plan. The plan also offers unlimited services for some international locations. However, customers have to give their old phones to Sprint or pay additional charges.