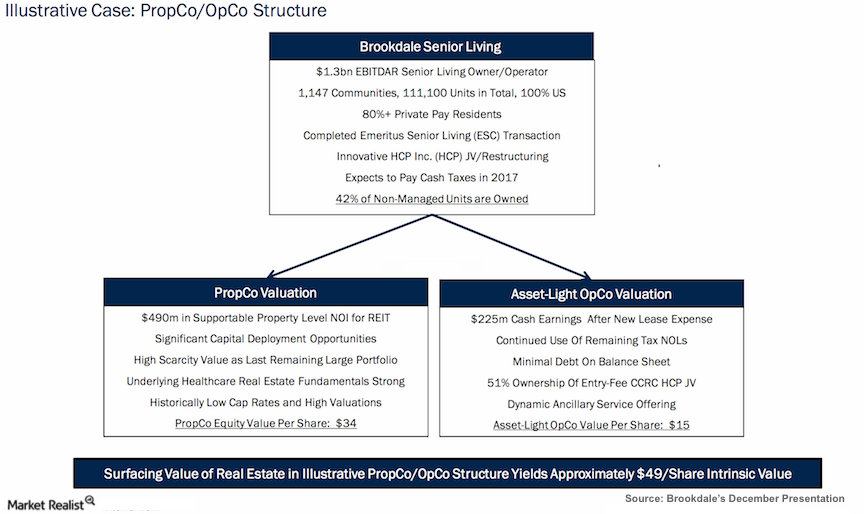 Why Sandell wants a spin-off of Brookdale's real estate assets
Sandell suggests a real estate spin-off for Brookdale Senior Living
In its February 6 letter to Brookdale Senior Living Inc. (BKD), Sandell Asset Management proposed a spin-off of Brookdale's real estate assets into an REIT. Sandell noted that if Brookdale spins off its real estate assets by a property company/operating company (or ProCo/OpCo) structure, then it could have an intrinsic value of $49 per share.
Let's take a look at the structure Sandell is proposing.
Sandell noted, "With the IRS recently lifting its moratorium on real estate related PLRs [private letter rulings], the PropCo/OpCo structure remains most suitable. . . . So timing to file for spin-off is paramount given lengthy process to obtain PLR."
In addition to enforcing and collecting taxes, the IRS (Internal Revenue Service) also issues PLRs to taxpayers. The IRS issues a PLR in response to a written request submitted by a taxpayer.
Article continues below advertisement
PropCo/OpCo structure for spin-off
Considering recent IRS developments, Sandell Asset Management believes PropCo/Opco structure is most suitable for Brookdale's spin-off of its real estate assets into an REIT.
In this structure, the parent company or operating company (or OpCo) sells revenue-generating properties to its subsidiary company. This subsidiary is also known as the property company (or PropCo). The PropCo then leases back the properties to the OpCo. The OpCo then does a spin-off of its subsidiary or PropCo as an REIT. It's a tax-free spin-off, and the company avoids double taxation on its income distributions.
Sandell expects the price-to-earnings (or PE) multiple for the new asset-light OpCo to be 12.0x compare to the current 8.0x.
The capitalization rate, a rate of return for the PropCo, is expected to be 5.25%. Brookdale says it will reflect "strong industry fundamentals and potential for both organic (investment) and inorganic (M&A) growth for PropCo and OpCo."
Penn National Gaming, Inc. (PENN) spun off its real estate assets into an REIT called Gaming and Leisure Properties Inc. (GLPI) using a PropCo/OpCo structure.
You can gain exposure to REITs by investing in the Vanguard REIT ETF (VNQ) and the iShares Dow Jones US Real Estate Index Fund (IYR).
In the next part of this series, we'll see Sandell Asset Management's justification for achieving capitalization rate for PropCo.