Retail Sales Reports From ICSC-Goldman And Johnson Redbook
The ICSC-Goldman and Johnson Redbook indices both report consumer spending data each week, but people consider the ICSC-Goldman index to be more consistent.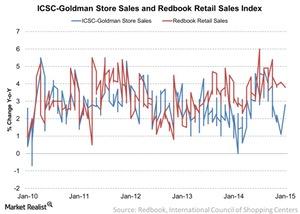 Two key retail sales indices
Same-store sales are important indicators for retailers, especially brick-and-mortar businesses. These include companies like Walmart (WMT), Kroger (KR), Costco (COST), McDonald's (MCD), Yum! Brands (YUM), and Chipotle Mexican Grill (CMG).
Two indices that track same-store sales in the US are the ICSC-Goldman Sachs chain store sales index and the Johnson Redbook retail sales index. Both the ICSC-Goldman index and the Johnson Redbook index report consumer spending data on a weekly basis. However, people consider the ICSC-Goldman index to be more consistent than the Johnson Redbook index.
Article continues below advertisement
Article continues below advertisement
Disappointing sales reports
The ICSC-Goldman index report that came out on December 9, 2014, showed that sales were up 2.9% compared to 2.8% year-over-year. The report noted that a larger proportion of late-December, last-minute holiday sales was the reason for the "lack of punch" in the numbers.
Johnson Redbook also released a report on December 9. Sales rose 3.9% compared to 4.8% year-over-year. The index slowed in early December, but this is "typical" after the holiday shopping rush of late November.
Takeaways for the restaurant industry
A rising index is a positive thing for the restaurant industry because it indicates customers' willingness to spend money. When the momentum continues, restaurants experience increased traffic, which eventually drives same-store sales. This benefits the SPDR S&P 500 ETF Trust (SPY), which holds several restaurant stocks.
To learn about restaurant same-store sales performance in the third quarter of 2014, read Why Chipotle Mexican Grill's same-store sales grew and Key factors that drove Panera Bread's same-store sales.
As the economy grows in strength and consumer spending increases, the Fed keeps a close watch on inflation. The next article will discuss this in more detail.