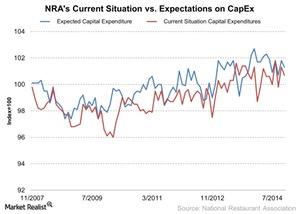 Restaurant Industry Outlook On Capital Expenditures
Capital expenditures
Previously in this series, we learned about the current situation of the restaurant industry's same-store sales in the US from a survey done by the NRA (National Restaurant Association). In this part, we will cover the health of and expectations for capital expenditures.
Restaurants make capital expenditures for various reasons. Companies do it to open new stores, as we saw in the case of Yum! Brands (YUM) in the article Yum! Brands' initiatives for China. As we learned in the article Why Chili's Grill & Bar's same-store sales increased, Brinker International (EAT) made capital expenditures to purchase new equipment. In the article Initiatives to improve McDonald's Corporation's same-store sales, we mentioned how McDonald's (MCD) made capital expenditures to reimage some of its existing restaurants.
Article continues below advertisement
Monthly figures
In November 2014, the Current Situation Index for restaurant industry capital expenditures was 100.7, showing an increase from 101.7 month-over-month. In September, this index had dropped below 100 to 99.8 for the first time since the six consecutive months starting in April 2014.
According to the NRA, 54% of restaurant operators reported in November that they had incurred capital expenditures over the past three months. In October, 57% of operators reported capital expenditures over the preceding three months. Increased capital expenditures are positive for the Consumer Discretionary Select Sector SPDR ETF (XLY), which includes Chipotle Mexican Grill (CMG) stock.
Outlook
The six-month outlook for capital expenditure plans as of November 2014 was 101.3. This figure has been above 100 for the past 12 months.
Given the overall indicators, the restaurant industry is on an uptrend. Restaurant operators have experienced strong same-store sales. Traffic, which is one of the key indicators in the Current Situation Index, was 101.5 in November, down from 103.9 in September.
One component of the Expectations Index is Expected Business Conditions. This component measures how restaurant operators feel about business conditions. We will discuss it in the next part of this series.