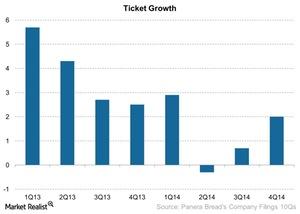 Panera Bread's Traffic And Ticket Impact Same-Store Sales Growth
Panera Bread's same-store sales grew
Ticket, or average check, grew 2% during the quarter. The average transaction grew 1.3% year-over-year, or YoY, during the quarter.
According to management, the decline in average check YoY was due to an increase in breakfast transactions. For the quarter, the transactions carried a lower average check—compared to the dinner and lunch menus. The check also declined due to the company's catering business during the quarter.
Article continues below advertisement
Traffic or transaction
Traffic is the increase in the number of customers that visit the stores and make a transaction or purchase. Traffic grew 1.3%. According to management, the transaction growth was due to the increase in the lunch and breakfast daypart transaction.
Other restaurant chains include Noodles & Company (NDLS), Fiesta Restaurant Group (FRGI), McDonald's (MCD), and Shake Shack (SHAK). You may also want to look at restaurants under the Consumer Discretionary Select Sector SPDR Fund (XLY). XLY holds 4% of McDonald's.
Transaction and ticket
Same-store sales is expressed as a percentage growth or a decline in the sales of an existing store over a period of time—usually over the year, quarter, or month. It's driven by ticket and traffic. Ticket means the average check per customer transaction. Ticket is also driven by the price of items on the menu and by the mix of products. Traffic means the number of customers that walk into Panera Bread (PNRA) restaurants and make a transaction.
Although the average check for Panera Bread was lower, an increase in transaction contributed towards revenue growth.
Besides same-store sales, new restaurant units also help revenue growth. We'll discuss Panera Bread's unit growth later in this series.