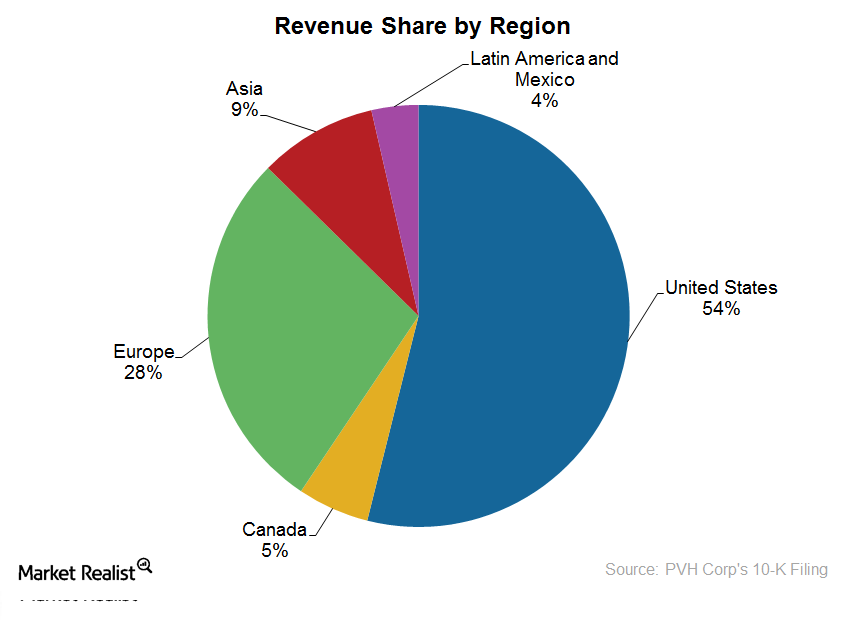 An overview of PVH's business by geographies
PVH Corp.
In the second part of this series, we discussed PVH Corp's (PVH) selling channels. We also looked at its design, sourcing, and manufacturing techniques. In this part of the series, we'll look at its operations by geographies.
Article continues below advertisement
Global footprint
PVH markets its products in over 100 countries through wholesale partners like Macy's (M), J.C. Penney (JCP), and Hudson's Bay (HBC). It has over 4,700 retail locations—including company-operated and concession shops. PVH also markets its products through its licensing operations.
In 2013, nearly 61% of PVH's reported revenue was sourced from North America, 28% from Europe, 9% from Asia, and 2% from Latin America. It's important to note that Australia and New Zealand are included under Asia.
Tommy Hilfiger and Calvin Klein are two of PVH's major brands. They contribute to 75% of the total revenue. While PVH has a global presence, North America and Europe contribute the most to its top line.
Tommy Hilfiger gets 41% of its sales from North America, 43% from Europe, 10% from Asia, and 6% from Latin America. Its North American operations are retail centric. Over 70% of the revenue from this region comes from freestanding, company-operated stores and concession shops. The European and Latin American operations are centered on the wholesale distribution channel. The Asian operations are predominantly through joint ventures and third party licenses.
Article continues below advertisement
Calvin Klein gets about 57% of its revenue from North America, 20% from Europe, 19% from Asia, and 4% from Latin America. The wholesale channel makes up 60% of its North American business. Retail forms the remaining 40%. In Europe, the revenue distribution model is split evenly between wholesale and retail. In Asia, its primarily through retail stores. In Latin America, its a wholesale model with select retail stores as a complement.
ETF holdings
Investors wanting to get exposure to PVH can consider pooled investment vehicles like the SPDR S&P 500 ETF (SPY) and the Consumer Discretionary SPDR ETF (XLY). XLY has a 0.42% allocation for PVH. Other apparel companies in XLY include Coach Inc. (COH), Ralph Lauren (RL), Michael Kors (KORS), and VF Corp. (VFC). Coach and Ralph Lauren account for 0.47% each. Michael Kors accounts for 0.66%. VF Corp. accounts for 1.13% of the ETF.