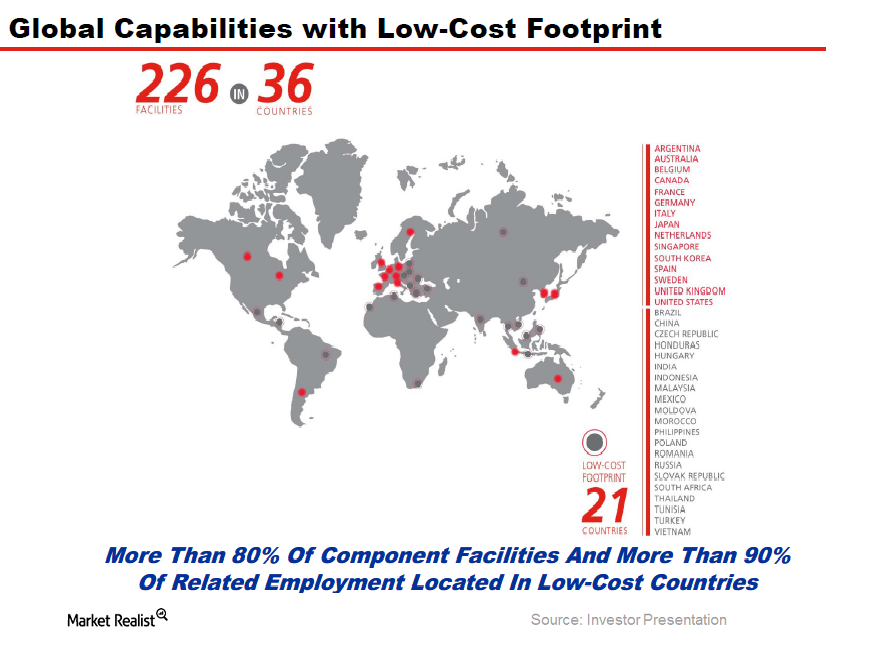 How Lear became one of the largest automotive parts suppliers
Brief history of Lear
In this part of the series, we'll look at Lear's business in a bit more detail so that we can better appreciate how a separation might pan out.
The company's history traces back to 1917 when it operated under the name, "American Metal Products" in Detroit. Back then, the company manufactured seating assemblies and other components for the automotive and aircraft markets. Soon after its incorporation in 1987, the company established itself as a privately held seat assembly operator for the North American automobile market with annual sales of ~$900 million. The company went public in 1994.
Article continues below advertisement
Emergence from chapter 11 bankruptcy
A recent highlight in the company's history was its emergence from chapter 11 bankruptcy reorganization, which it filed for in the third quarter of 2009. This event was around the time of the US economic downturn where the automotive sector was one of the worst hit sectors, as evidenced by a string of bankruptcies and curtailed production. Lear had an overburdened debt profile, and the weaker demand environment severely affected its business, forcing it to file for a chapter 11 reorganization.
As part of the reorganization process, the company's creditors forgave $2.8 billion in debt in exchange for an equity position. Within four months, the company bounced back with a stronger balance sheet, new business wins, and improved operating efficiency from streamlining its global cost footprint.
Article continues below advertisement
Business overview
Now, Lear (LEA) is one of the largest automotive parts suppliers with FY14 revenues of $17.7 billion. On the basis of its offerings, the company's business segments can be categorized into seating, which earns 75% of the company's revenues, and electrical, which earns 25%.
Lear's sales are driven by the number of vehicles produced by the automotive manufacturers, which in turn is ultimately dependent on consumer demand for automotive vehicles and the amount of Lear products that go into each vehicle. Since larger vehicle models like SUVs, crossovers, trucks, and luxury cars have higher interior content, they tend to impact operating performance more.
The company's sales are well diversified geographically, by customer, and by vehicle segment. In 2014, approximately 39% of sales were generated in Europe and Africa, 38% in North America, 18% in Asia, and 5% in South America.
In order to reduce reliance on any particular vehicle model, the company offers seating and electrical components to a broad cross section of vehicles. In fiscal 2013, nearly 59% of sales came from cars and 41% from light trucks. In terms of vehicle size, 17% of sales came from compact, 46% from mid size, 21% from luxury/full-size, and 16% from full frame.
High concentration in the Detroit 3
The company has a significant customer concentration in the Detroit 3: Ford Motor Company (F), General Motors (GM), and Chrysler (FCAU). Together these companies represent 47% of the company's revenue mix. Ford and General Motors top the chart, each accounting for 22% of the company's sales. BMW AG (BMW) comes in at third, accounting for 10% of sales.
Lear (LEA) has an allocation of 1.40% in the First Trust Consumer Discretionary Alpha Fund ETF (FXD) and a 0.30% portfolio weight in the Vanguard Consumer Discretionary ETF (VCR).