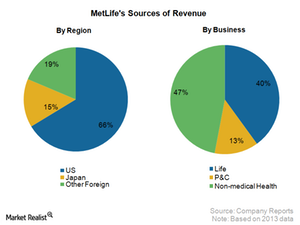 MetLife – A globally diversified insurance company
Overview
MetLife (MET) is a global insurance company that operates in several countries across the world. Although MetLife derives more business from life insurance, it is a key player in health as well as in the property and casualty space.
As one of the largest insurance companies listed on the US stock exchanges, MetLife is a part of major indices and ETFs like the Financial Select Sector SPDR Fund (XLF), where it forms around 2% of the portfolio.
Article continues below advertisement
Diversified business mix
About two-thirds of MetLife's revenue in 2013 came from its life insurance business, while accident and health insurance added slightly above another quarter of the total revenue. Revenue here includes total premiums, universal life and investment-type product policy fees, and other revenues.
In terms of a geographical split, two-thirds of the revenue came from the United States, while Japan contributed another 15% of the revenue in 2013. Apart from the United States, MetLife's operations are based in Latin America, Asia, Europe, and the Middle East, where the company provides life insurance, retirement and savings products, as well as accident, health, and credit insurance.
Market leading position
MetLife is a market leader in the US. MetLife's competitors in the US include Prudential Financial (PRU), Aflac (AFL), and Principal Financial (PFG). The company is also the largest life insurer in Mexico and Chile, and it is among the leading players in other geographies like Japan, Korea, and Poland.
This is in line the insurer's strategy to seek growth in emerging markets. Establishing operations is a key trend among insurers, as we outlined in our industry overview, An investor's guide to the insurance business.
Overview
In this series, we'll take you through an overview of MetLife's business. We'll begin by taking a closer look at the US operations—its largest business—and move into MetLife's businesses in Latin America, Asia, Europe, the Middle East, and Africa.
We will then look at MetLife's strategy, financial performance, and valuations, as well as ETFs that one can invest in to gain exposure to MetLife's shares.