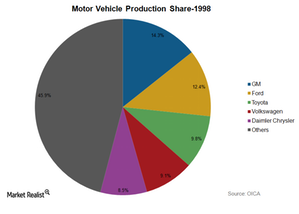 What makes the auto industry highly concentrated?
Industry is dominated by a few players
The automobile industry is one of the most highly concentrated industries in the world. Even though the product range is wide and there's a lot of opportunity for the existing players to come up with innovative products, the market continues to be dominated by a few major companies.
The top five players have a significant 49% share of the global automobile market. This share decreased by 5.1% in the 15-year period from 1998 to 2013. Smaller companies slowly took the major automotive companies' share away. In terms of vehicles produced, General Motors (GM), Ford (F), Volkswagen, and Toyota (TM) are still featured on the top five list.
The former merged entity of DaimlerChrysler was replaced by the Korean manufacturer Hyundai.
ETFs trade just like equities. However, they provide better diversification and an easy way to get exposure to global manufacturers. GM, Ford, Toyota, and Honda (HMC) make up 33.12% of the First Trust NASDAQ Global Auto Index Fund (CARZ).
Article continues below advertisement
Why is the auto industry highly concentrated?
The industry has significant entry and exit barriers. This makes it difficult for new players to enter the market. The existence of economies of scale is perhaps the most significant entry barrier in the auto industry. Also customers have existing brand preferences. For such a high-value purchase, the brand often becomes the decisive factor.
There are heavy sunk costs associated with exits. Ford had to pay $750 million in the form of severance costs associated with shutting down its plant in Genk, Belgium. Companies also have to resist severe government and union pressure to not shutdown unprofitable units. Access to resources, like technology and capital, are also crucial for an automotive player to become successful.
What's the implication of manufacturer concentration on auto suppliers? Where do auto suppliers figure in the value chain? We'll discuss this in the next part of this series.