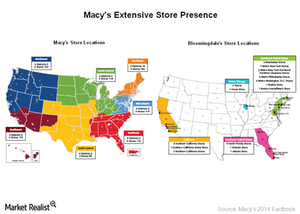 Macy's: What does the largest department store look like?
Company overview
Macy's, Inc. (M), the largest department store chain, operates about 840 stores in 45 states, the District of Columbia, Guam, and Puerto Rico. The company's stores operate under the Macy's and Bloomingdale's brands. Macy's stores sell consumer discretionary products such as apparel, accessories, cosmetics, and home furnishings.
Article continues below advertisement
Macy's impressive journey
Macy's started in 1858 as a small, fancy dry goods store in New York City. In November 1902, the store moved uptown to its current Herald Square location. After the completion of the 7th Avenue expansion in 1924, Macy's became the world's largest store with more than a million square feet of retail space. The store continued to be the world's largest department store until the emergence of the Shinsegae Centum City Department Store in Korea in 2009.
Market leader
According to Verdict Retail's Global Department Store Retailing report, Macy's is the number-one department store with an estimated 2014 global market share of 6.4%. The report further states that only two of the top 12 US retailers, Macy's and Nordstrom, managed to witness a rise in market share over the period 2009–2014.
Competition
Macy's peers in the department store category include Sears Holdings Corp. (SHLD), Kohl's Corporation (KSS), Dillard's, Inc. (DDS), Nordstrom, Inc. (JWN), and J.C. Penney Company, Inc. (JCP).
Sears, Kohl's, and Nordstrom trail Macy's with a global market share of 4.7%, 4.3%, and 2.9%, respectively. Macy's also competes with off-price stores such as TJX Companies, Inc. (TJX) and discount stores such as Target Corporation (TGT) and Wal-Mart Stores, Inc. (WMT). These companies are part of the SPDR S&P Retail ETF (XRT). As of January 30, 2015, XRT had 1.01% holdings in Macy's.