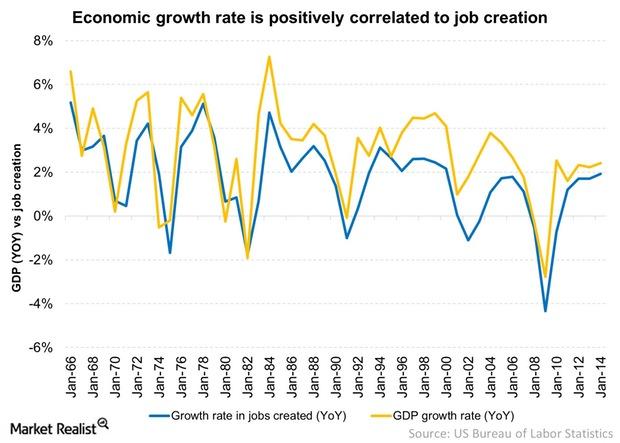 Why Job Creation And GDP Growth Go Hand-In-Hand
Over the long term, a country's economic growth is determined by the rate of increase in the labor force and productivity growth. If fewer people are working, unless there is a surge in new workers or everyone suddenly become more productive, growth slows. This is exactly what has happened over the past dozen or so years in the United States. And to the extent that an aging population continues to retire, lower labor force participation may be an even bigger drag on growth in the future.
Article continues below advertisement
Market Realist – Job creation and GDP growth go hand-in-hand.
The graph above compares the annual gross domestic product, or GDP, growth rate with the yearly change in jobs created over the last 50 years. As you can see, the job markets and the economy tend to move in a similar pattern. The correlation between the two is as high as 0.82. No wonder job reports move equity markets (SPY)(IVV) the way they do!
However, keep in mind that an increase in jobs doesn't necessarily mean an increase in the labor force participation rate. The latter also takes the population into account. We'll discuss this more in the next part of this series.
Since fewer workers are working, it has a negative impact on discretionary income. In turn, discretionary income affects consumption. It's important to remember that consumption makes up 70% of the US GDP. The economy depends on consumption. That's why a lower participation rate is a drag on the economy. However, lower oil (USO) prices offset that to an extent. It's positive for consumer sectors like consumer staples (XLP) and consumer discretionary (XLY).