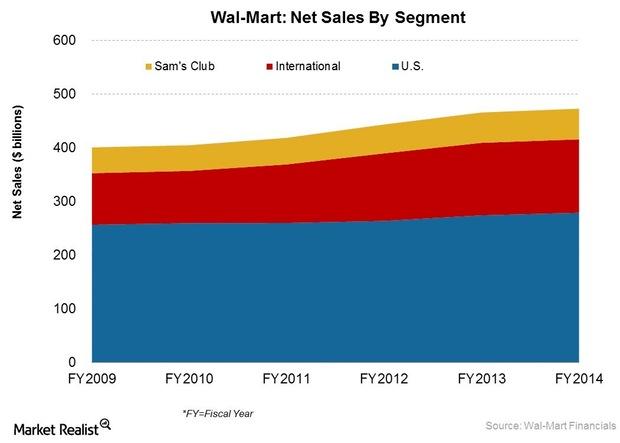 What Investors Need To Know About Walmart's US Segment
By Phalguni Soni

Feb. 18 2015, Updated 2:06 p.m. ET
Business segments
Walmart (WMT) is the world's largest retailer. It's a mega cap stock—one of the largest 100 stocks by market cap in the US. The iShares S&P 100 (OEF) provides exposure to Walmart with a 1.2% weight.
Walmart reports results under three segments:
Walmart US
Walmart International
Sam's Club
Article continues below advertisement
Walmart US
Walmart's US segment is the company's largest segment in terms of net sales and operating profit contribution. It accounted for 58.7% of net sales and 75% of operating profit in fiscal year 2014[1. Financial year ending January 31, 2014]. Walmart's US segment includes the company's sales derived through US retail stores—excluding Sam's Club. Store banners include the "Walmart" brands. The segment also includes US e-commerce sales through www.walmart.com. For more on Walmart's thriving e-commerce sales, read Parts 17–19 in this series.
Store formats
The segment operates retail stores in various formats. Supercenters are the largest store format. They average ~179,000 square feet in size. Discount stores average ~105,000 square feet. Neighborhood Markets and other smaller formats are the smallest stores. They average ~40,000 square feet.
Walmart has over 11,100 stores across the world. It's important to note that 4,344 stores fall under Walmart's US segment. In contrast, the store count for other retail companies including Costco (COST), Target (TGT), Dollar General (DG), Kroger (KR), Safeway (SWY), and Whole Foods Market (WFM) came in at 671, 1,934, 11,715, 3,739, 1,332, and 408 stores, respectively[2. Last reported fiscal period].
Article continues below advertisement
Products
As a mass merchandiser, Walmart's products are classified into six major categories:
Groceries
Entertainment
Health and wellness
Hardlines – including stationery, automotive accessories, and hardware—among others
Apparel
Home – including furnishings, small appliances, and other houseware
Groceries is the largest category. It accounts for 56% of sales. It's followed by entertainment at 11% of sales[3. Fiscal 2014].
In-house brands
Walmart's US segment stores offer in-house, store brands including Great Value, Equate, and Everstart—among others. The company also retails products under licensed brands including Disney, Lee, and General Electric—among others.
Recent changes
Lately, the segment faced a tough retail environment. It was plagued by negative comps growth in stores. It started to reverse the declining comp trend in 3Q15. For more on the segment's growth drivers and outlook, read Part 27 and 28 in this series.