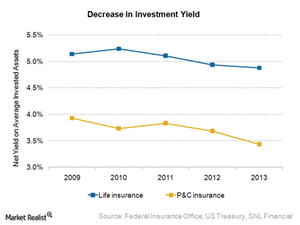 How investment income drives profit
Role of investment income
Insurers invest the premium received, less the expenses to run the business, in financial assets. The income generated from such investments is called investment income and is a profit driver for insurance companies. Insurers, represented by the SPDR S&P Insurance ETF (KIE), are key participants in the financial markets, as they have large investment portfolios.
Insurers are among the largest investors in the bond market, with a significant part of their invested assets allocated to government and corporate bonds. Consequently, an insurer's investment income—and profit—depends on the prevailing interest rates.
Article continues below advertisement
Article continues below advertisement
Impact of low interest rates
The current low interest rate scenario in the US hurts the profitability of insurers in the US. As illustrated in the chart above, the evolution of investment yields of both life and P&C insurers have seen a downward trajectory in the last few years.
The impact of interest rate changes is greater for business lines that have longer duration contracts. There is a significant difference in time between premium payment and claims, when the downward movement of interest rates may make it difficult to meet financial obligations.
Impact on life and P&C providers
Many life insurers such as MetLife (MET) and Prudential Financial (PRU) offer guaranteed benefits as a part of their annuity products. These companies are likely to see lower profitability of such products as the spread narrows between investment income and the guaranteed rate.
P&C insurance products, like those offered by AIG (AIG) and ACE (ACE), are renewed on an annual basis. The impact of interest rate movements is lower in this segment, as their products can be repriced annually to keep in line with interest rate movements.
Insurers have exposure to other classes of assets like equities and real estate. However, they maintain a limit on this due to relatively higher risk in these asset classes. In order to counter the impact of low interest rates on investment income, insurers are changing investment strategies by increasing their exposure to higher yield assets. We'll explore this more in the next article.