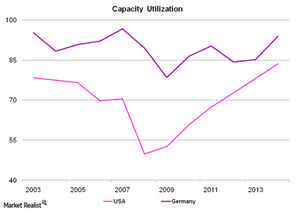 High operating leverage impacts the auto industry
Automakers' operating leverage
Due to high capital investment requirements, new companies find it difficult to enter the automotive market. An automotive player easily invests more than $1 billion dollars to set up a new manufacturing plant. It could take five to eight years to break even. In other words, the industry has high operating leverage.
Operating leverage represents fixed costs as a percentage of total costs. High operating leverage magnifies gains and losses. It also makes earnings sensitive to sales.
Article continues below advertisement
Traditionally, production lines have been highly specialized and designed to only produce one model. During times of low growth, automakers had a hard time covering the fixed costs. However, due to intensifying competition, companies are now phasing out car models quicker. Also, assembly lines are becoming flexible to accommodate more models on the same line. This change helped companies spread the risk out over different models.
Capacity utilization
On average, a production plant needs to run at 75–80% capacity to break even. As the above chart shows, capacity utilization in the US and German auto industries grew since the lows during the 2008 financial crisis. In 2009, Germany exported about 77% of the vehicles it manufactured. An increase in this figure indicates growing demand from its major importers:
Auto manufacturers in Europe are still grappling with the problem of capacity underutilization. Fiat only had a 55% utilization rate in 2013. Peugeot (PEUGY) operated at 66% capacity. Together, Ford (F), General Motors (GM), Volvo (VOLVY), and Peugeot-Citroen shutdown five factories in Europe since the 2008 crisis.
The First Trust NASDAQ Global Auto ETF (CARZ) holds all of the major automakers. The fund provides a simple, direct way to invest in the automotive industry.
In an industry with high competition, manufacturers offer plenty of incentives to keep potential buyers interested. In the next part of this series, we'll discuss manufacturer incentives.