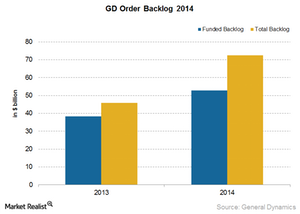 What does General Dynamics' order backlog reflect?
Backlog numbers
General Dynamics shifted its focus and dependence from the US military to its Gulfstream business jet and cyber security divisions. The shift was in response to the US sequestration cuts. As a result of its focused efforts over the past two years, the company saw strong growth in its backlogs—primarily driven by the strong inflow of orders in the Combat Systems segment. The segment has more than doubled its backlog orders in the past year.
Now, 60% of the company's backlog is with public and private companies. This includes Fortune 500 companies. They're supposed to be very stable, reliable, and predictable.
Article continues below advertisement
Key contracts
General Dynamics' funded backlog grew from $38.3 billion at the end of 2013 to $52.9 billion at the end of 2014. Its total backlog grew from $45.9 billion at the end of 2013 and to $72.4 billion at the end of 2014. This was a whooping 58% increase.
Other companies with strong order backlog increases include Northrop Grumman (NOC), Lockheed Martin (LMT), and Raytheon (RTN). Some of these companies are part of the iShares U.S. Industrials ETF (IYJ).
Some of the key orders in General Dynamics' order backlog include:
Combat Systems – $80 million from the US Army to convert the Abrams tank to Saudi MI A2S for KSA; $70 million for production of Hydra-70 rockets for the US Army; $75 million from the US Army for Stryker upgrade kits.
IS&T (Information Systems & Technology) – $325 million for contract services from the Center for Medicare & Medicaid Services; $135 million to design and develop next-generation space loads; $85 million for supply chain services to the US Department of Science; $70 million for production and support of the US and United Kingdom Trident II submarine weapon systems by the US Navy.
Marine System – $435 million from the US Navy for design and construction of its MLP and AFSB; $90 million for design work on the next generation ballistic missile submarine; $80 million for planning yard services for the US Navy's DDG-51 destroyer and FFG-7 programs.
As a result, with strong backlog growth, General Dynamics looks well booked for the next couple of years.