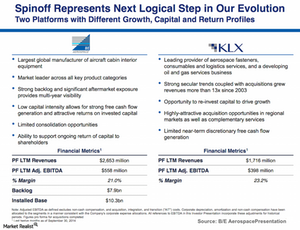 B/E Aerospace spun off KLX business on activist push
Farallon discloses 7% stake in KLX
Farallon Capital disclosed a 7% stake in KLX Inc. (KLXI) in its 13G filing. This disclosure came after B/E Aerospace Inc. (BEAV) completed its spin-off of KLX in December 2014. B/E Aerospace transferred its Consumables Management segment businesses to KLX.
Article continues below advertisement
B/E Aerospace's spin-off after Relational Investors stake
In May 2014, activist investor Relational Investors disclosed a 3.5% stake in B/E Aerospace. The fund held discussions with B/E's management in April 2014 over strategic alternatives.
In June, B/E said it started to separate its business into two independent, publicly traded companies. One company will focus on the design, development, manufacturing, certification of aircraft interior equipment, and will direct sales on a global basis. The other company, KLX Inc., will focus on the distribution, logistics, and technical services for the aerospace and energy markets.
Before the spin-off, the company refinanced capital structures of both new B/E Aerospace and KLX, and it redeemed $2.6 billion of debt. On December 8, 2014, B/E Aerospace closed offering of senior notes of $1.2 billion by KLX. The company intended to uses ~$750 million from the proceeds to pay a dividend to B/E Aerospace shareholders. About $430 million were to be used for general corporate purposes. Approximately $110 million were to be used to settle deferred payments associated with 2014 acquisitions.
Article continues below advertisement
On December 17, 2014, B/E Aerospace completed its spin-off of KLX from B/E Aerospace, and KLX started trading on NASDAQ under the ticker symbol KLXI. B/E Aerospace noted, "Separating these highly successful businesses into two industry-leading companies will allow each to benefit from increased management focus and operational flexibility."
BEAV shares fell ~27% in early market trading after the announcement of the spin-off completion. The company's shares no longer reflect the value of KLX.
Analyst views on BEAV
Jefferies analysts lowered the price target of BEAV to $55 from $80 to reflect the spin-off.
Deutsche Bank maintained BEAV's rating of "buy," but it also lowered its price target to $66 from $91. It noted in its report, "We continue to see fundamentals of strong airline profitability and air traffic growth driving mid-to-high SD top-line growth alongside steady margin expansion." Deutsche Bank expects BEAV to become pure-play to commercial aerospace, as the commercial aircraft segment contributes more than 40% to sales.
Recent spin-offs
Spinoffs have gained popularity as a method to unlock shareholder value. Vornado Realty Trust (VNO) spun off its subsidiary Urban Edge Properties (UE). Plus, Occidental Petroleum Corp (OXY) spun off its subsidiary California Resources Corporation (CRC) to increase the shareholders value by separating two businesses.

In the next article, we'll discuss B/E Aerospace's financial results after the spin-off.