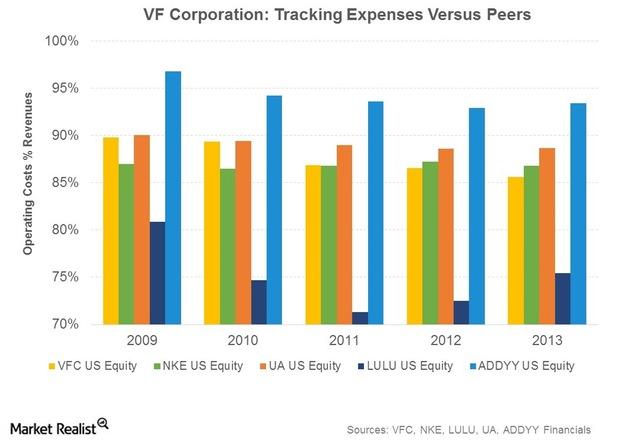 VF Corp.'s Location, Manufacturing, And Supply Chain Advantages
VF Corporation's manufacturing overview
VF Corporation's (VFC) product portfolio includes ~35 brands. In 2013, the company sourced or produced ~500 million units. Its supply chain is among the industry's most complex. Due to its scale, brand name, and worldwide presence, VFC enjoys significant bargaining power with its suppliers. This is a key competitive advantage in keeping production costs low. No individual supplier represents more than 5% of the company's cost of goods sold.
Article continues below advertisement
Article continues below advertisement
VFC manufactures products in ~60 countries, including the United States. Unlike competitors NIKE (NKE), Lululemon Athletica (LULU), and Under Armour (UA), which outsource their entire manufacturing functions to third parties, VFC manufactures ~27% of its products in facilities operated by the company. The company owns 28 manufacturing facilities. Third-party contractors operate ~1800 of the company's facilities. This implies that VFC's business model isn't too capital intensive.
VFC, NKE, and UA are part of the Consumer Discretionary Select Sector SPDR Fund (XLY), the SPDR MSCI World Quality Mix ETF (QWLD), and the iShares Core S&P 500 ETF (IVV). These companies form 1.14%, 3.07%, and 0.53% of XLY's holdings, respectively. As S&P 500 Index components, they form 0.14%, 0.37%, and 0.06% of IVV's holdings, respectively. QWLD's portfolio weights in VFC, NKE, and UA are 0.17%, 0.29%, and 0.04%, respectively.
Article continues below advertisement
Raw materials
Major raw materials that VFC uses in production include, cotton, leather, and rubber, among others. Tracking cost trends in these commodities is critical. For more on cost trends, read Parts 15 and 20 of this series.
Third-party contractors own most of the raw materials used in production and ship finished products to the company. Contractors are retained by VFC-owned sourcing hubs located in Hong Kong and Panama. These hubs coordinate the procurement, manufacturing, quality assurance, transportation, and supplier management functions.
An edge on location
VFC's production facilities are located in Western countries, including the United States, and in Asia. While production costs in Western countries are higher, manufacturing lead times are shorter.
Independent contractors based in the United States carry out the manufacturing of VFC's Contemporary Brands coalition. The coalition consists of premium apparel brands and thus faster response to changing fashions and quicker lead times are critical.
Other production that VFC carries out in the United States includes Major League Baseball uniforms, screen printing and embroidery of jerseys, T-shirts, and fleece.
Innovation centers
New design ideas and faster speed to market are critical for apparel and fashion products. VFC operates three Asia Innovation Centers, two for its Jeanswear coalition and one for JanSport. These centers enable collaboration between designers and manufacturers.
VFC is looking at a new logistics and manufacturing model that uses face-to-face communication and aims to generate new ideas and reduce lead times for its products.