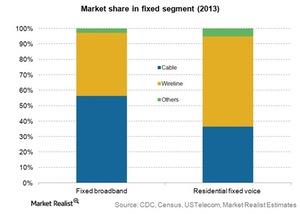 Understanding competition from other industries—cable companies
Competition from cable
Apart from the intersegment competition between wired and wireless services, telecom companies compete with other industries. Telecom companies compete directly with cable companies—particularly in wired voice, data, and TV services.
Article continues below advertisement
Article continues below advertisement
Residential fixed voice
In the residential and small business segments, telecom companies compete with cable companies. In these segments, telecom and cable companies provide bundled voice, broadband, and video subscriptions—often called triple play services.
Advances in technology—particularly the adoption of VoIP (Voice over Internet Protocol)—transformed the telecom-only residential wired voice segment. According to the FCC (Federal Communications Commission), VoIP is now the largest US residential fixed-voice service. It represented more than ~50% of the total market at the end of 2013.
VoIP's rising share helped cable companies become the second largest player in the segment. Cable companies represented ~37% of the segment at the end of 2013. Telecom companies still dominate the segment. They had a ~58% market share at the end of 2013.
Fixed broadband
In fixed broadband, cable companies have a natural advantage. They can offer higher speeds than telecom companies' traditional DSL (digital subscriber line). As a result, they dominated the segment with a 57% market share at the end of 2013. Please read Why cable companies are dominating the US broadband space to learn more.
Telecom companies started offering enhanced broadband connections—like AT&T's (T) U-Verse and Verizon's (VZ) FiOS. They provide much higher speeds than DSLs. These services offer Internet speeds comparable to those provided by cable companies—like Comcast (CMCSA), Cablevision (CVC), and Time Warner (TWC).
Article continues below advertisement
However, telecom companies still need to upgrade their network to compete effectively with cable companies in the segment. According to the Fiber to the Home Council, although US telecom companies are investing heavily in broadband, FTTH (fiber-to-the-home)—which gives high internet speeds—only covers around one-fifth of the country.
Television services
Telecom's nascent IPTV launched in 2005. It competes with traditional players—like cable and satellite TV. Based on the NCTA's (National Cable and Telecommunications Association) analysis of SNL Kagan data, during 2005–2013, IPTV gained an 11% market share of Pay TV—largely at the cable companies' expense.