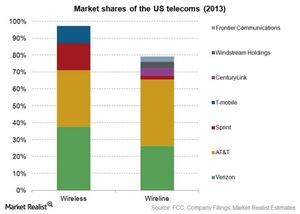 Why there's high competition in the US telecom industry
By Ray Sheffer

Jan. 19 2015, Updated 12:13 p.m. ET
Competition among telecom companies
The US telecom industry has matured. It reached saturation levels in core voice services. Telecom companies don't have the opportunity to gain access to new untapped customers. Therefore, they compete aggressively to gain their peers' market shares in their customer segments—consumers and businesses. Price competition is usually high. Wireless telecom is dominated by consumers. In wireline, businesses—especially medium and large enterprises—are a significant customer segment. They aren't very sensitive to prices.
Integrated national carriers compete effectively in both of these customer segments. The largest integrated telecom companies—AT&T (T) and Verizon (VZ)—represented 69% of the industry at the end of 2013.
Article continues below advertisement
Wireless
According to the FCC (Federal Communications Commission), in the US, wireless subscribers are predominantly post-paid customers. Post-paid subscribers represent 60% of the total subscribers. Pre-paid customers represent 15–20% of the total subscribers. The industry is mostly concentrated on the top four national carriers—AT&T, Verizon, Sprint (S), and T-Mobile (TMUS). These companies commanded ~96% of the segment's market share in 2013. Verizon is the market leader in the wireless segment. It has a 38% share. It's followed closely by AT&T.
Wireline
In the US, wireline has a large number of consumers. However, businesses dominate the segment. Unlike consumers, businesses contribute to high revenue per customer for telecom companies. For a wireline-only company—like Frontier Communications (FTR)—the average monthly business revenue per customer was $653.30. The average revenue per user for residential customers was $59.30 in 2013.
Enterprises' requirements can be met by wireless and wired services. Due to enterprises' unique requirements, large integrated companies become the enterprise segment's natural choice. Integrated players—like AT&T and Verizon—dominate the industry. These two companies represented ~66% of the US wireline telecom industry at the end of 2013.
The top six telecom companies have an ~79% share in the segment. These companies include AT&T, Verizon, and Sprint. They're the integrated players. The three fixed-line companies include CenturyLink (CTL), Frontier Communications, and Windstream Holdings (WIN).