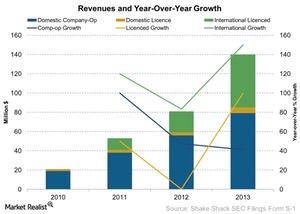 Where Does Shake Shack Get Its Revenue Sources?
Shake Shack's revenue sources
In the last part of this series, we learned about Shake Shack's (SHAK) revenues. Shake Shack gets its revenue from three sources:
domestic company-operated stores
domestic licensed stores
international licensed stores
Article continues below advertisement
Domestic company-operated stores
Company-operated stores means all of the restaurants that are directly owned and operated by the company. It includes all of the capital, staffing, occupancy obligations, repairs, and maintenance that's carried out by Shake Shack. However, this also lets the company keep all of its revenues.
Domestic means all of the restaurants in Shake Shack's domestic market—the US. Revenue from this segment was $78.5 million in 2013. For the 39 weeks ending in September 2014, or 3Q14, this segment's revenue was $78.9 million.
Domestic and international licensed stores
Like a company-operated restaurant, Shake Shack doesn't have significant control over its licensed stores. As of September 2014, it had two licensees that developed all of its licensed stores in the domestic and international markets. For 2013, domestic and international stores' licensed sales were only 4%—or $2.7 million. For the 39 weeks ending in September 2014, the sales from these stores represented 5.6% of the total sales.
Is the company-operated model better?
The company-operated and licensed models each have pros and cons. Some restaurant chains—like Chipotle Mexican Grill (CMG)—exclusively operate company-operated stores. In contrast, other restaurants—like Dunkin' Brands (DNKN)—have "nearly 100%" franchised stores. Some restaurants have a blend of both models—like McDonald's (MCD) and Tim Hortons (THI). So, restaurants can be successful using any model or a combination of models.
The Consumer Discretionary Select Sector SPDR (XLY) holds several restaurant stocks. You can consider the ETF for a broader portfolio investment.
Using a blend of both models, Shake Shack is positioned to grow rapidly. It won't require huge amounts of capital. In the next part of this series, we'll look at one of the most important drivers for a restaurant business—same-store sales.