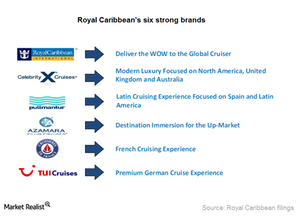 Royal Caribbean tailors brands for specific international markets
Royal Caribbean's personalized brands
Apart from operating the largest contemporary global brand, Royal Caribbean offers five additional brands targeting specific markets. All its services and amenities are designed for the target market's requirements. These combine contemporary and premium brands.
Celebrity Cruises is positioned within the premium segment. It operated 11 ships with a capacity of 24,900 berths in 2013. Cruise lengths range from three to 18 nights to popular destinations including Alaska, Asia, Australia, Bermuda, Canada, the Caribbean, Europe, Hawaii, New Zealand, the Panama Canal, and South America. The ships provide luxurious accommodations with high staff-to-guest ratios to enable personalized service.
Azamara Club Cruises serves the up-market segment of the North American, UK, and Australian markets. It provides four-to-18-night cruises to destinations in Asia, Europe, North America, the Caribbean, the Mediterranean, and South and Central Americas. It operates two ships with 1,400 berths in the premium and luxury segments. Prices are higher, but the base price of the cruise includes complementary on-board services, amenities, and activities.
Article continues below advertisement
Pullmantur provides contemporary cruise services and targets the Spanish, Portuguese, and Latin American markets. Out of the four ships operated in 2013, one was redeployed from Pullmantur to CDF Croisières de France. With a capacity of ~7,650 berths, the brand offers cruises between four to 12 nights to South America, the Caribbean, and Europe. It's increased its focus on the Latin American market in the last few years. In order to focus on its core cruise business, Pullmantur sold the majority of its interest in land-based tour operations, travel agencies, and Pullmantur Air, retaining only a 19% interest.
CDF Croisières de France is a contemporary brand designed specifically for the French market. The company operates two ships with a capacity of 2,750 berths. The brand has recently started services to the Caribbean in addition to Europe, and it also offers seasonal itineraries to the Mediterranean.
TUI Cruises is a 50/50 joint venture between Royal Caribbean and TUI AG, a German tourism and shipping company. The brand offers contemporary and premium cruises tailored to suit German cruise guests. In 2013, the brand operated two ships with a capacity of 3,800 berths.
Refer to Carnival's contemporary, premium and luxury cruises for more details on competing brands offered by Royal Caribbean (RCL) and Norwegian Cruise Line (NCLH). All these cruise operators are part of ETFs such as the PowerShares Dynamic Large Cap Growth Portfolio (PWB), the Consumer Discretionary Select Sector SPDR Fund (XLY), and the PowerShares Dynamic Leisure and Entertainment Portfolio (PEJ).