Renew blue: Best Buy's turnaround strategy
As part of its turnaround strategy, Best Buy is also revamping its stores and trying to encourage more robust store traffic.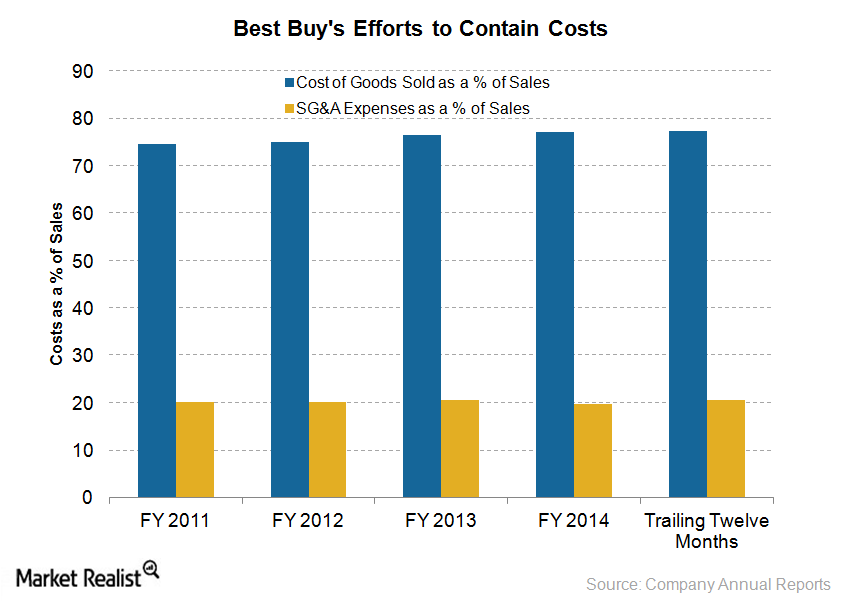 Turning the blue ship around
As we saw previously in this series, Best Buy (BBY), part of the Consumer Discretionary Select Sector SPDR Fund (XLY), had to contend with several issues in 2012. To improve its financial position, the company launched a strategic plan it called "renew blue." The plan called for strengthening relationships with vendors, revamping stores, increasing same-store sales, eliminating unnecessary costs, and ramping up Best Buy's online business.
Article continues below advertisement
Article continues below advertisement
Cost reduction
By the end of 3Q 2015 ended November 1, 2014, the company had generated cost reductions of $965 million through its multi-year productivity program. It reduced costs by $350 million in fiscal 2014 by closing underperforming stores, shrinking its workforce, and making supply chain efficiencies.
Best Buy expects to lower costs even more with renew blue, generating $1 billion in savings by reducing product returns, replacements, and damages, and by streamlining its logistics and supply chain, as well as its procurement process.
Enhancing relationship with suppliers
Consumer electronics suppliers like Apple (AAPL) are rapidly expanding their retail businesses. To mitigate such competition, Best Buy has arranged to open stores-within-a-store with certain key suppliers. For example, Best Buy partnered with Samsung to open 1,400 Samsung stores-within-a-store called "Samsung experience shops." It reached a similar arrangement with Microsoft (MSFT), opening 400 Windows stores-within-a-store. We'll look more closely at Best Buy's key suppliers in Part 8 of this series.
Article continues below advertisement
Ramping up online sales
Online retailing has helped players like Amazon.com (AMZN) capture the market share of bricks-and-mortar companies like Best Buy.
In response, Best Buy is now highly focused on growing its online business. The company has extended its online sales distribution network with its ship-from-store concept, which it has now rolled out to 1,400 store locations.
Other restructuring efforts
RadioShack (RSH) is also implementing cost-reduction initiatives, aiming to improve earnings by over $400 million annually. As well, Sears (SHLD) is transforming its business model so that it's less asset-intensive and relies more on the online marketplace.
As part of its turnaround strategy, Best Buy is also revamping its stores and trying to encourage more robust store traffic. We'll learn more about these initiatives in Part 6 of this series.