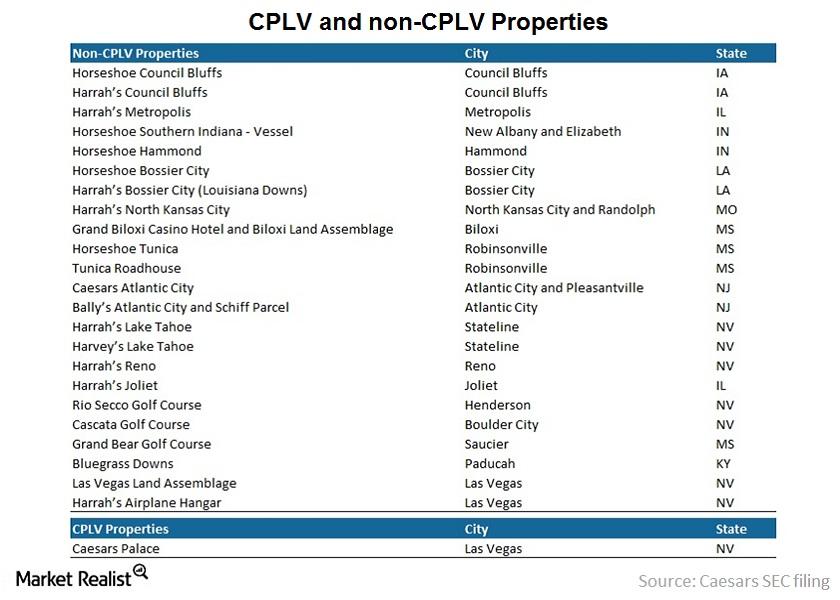 A Quick Guide To The Bifurcation Of Caesars's Operating Leases
Lease consideration
Caesars Entertainment's (CZR) largest operating unit, Caesars Entertainment Operating Company (or CEOC), will restructure as a separate operating company (or OpCo) and property company (or PropCo), with a real estate investment trust (or REIT) directly or indirectly owning and controlling the PropCo.
The PropCo will own all of CEOC's real property and a separate subsidiary of PropCo will own all of the assets of Caesars Palace Las Vegas (or CPLV). Under the proposed restructuring, there will be two separate leases:
CPLV lease
non-CPLV lease
The OpCo will enter into these two leases for all of the PropCo's properties. Both the CPLV lease and the non-CPLV lease will be structured as triple-net leases in which the OpCo will be responsible for the maintenance and repair of the properties.
Article continues below advertisement
Article continues below advertisement
In November 2013, Penn National Gaming (PENN) spun off its real property assets into a REIT named Gaming and Leisure Properties (or GLPI). Recently, Boyd Gaming (BYD) and Pinnacle Entertainment (PNK) are considering REIT spin-off plans. You may consider holding a diversified portfolio in these companies through ETFs like VanEck Vectors Gaming (BJK).
The OpCo will be required to expend $175.0 million in capital expenditures annually. The OpCo will be responsible for capital expenditures, with the PropCo reimbursing the OpCo for the lesser of $78 million or 37.5% of the annual capital expenditures.
The initial term of each lease will be for 15 years with four five-year renewals. CZR will provide a guarantee of payments and performance of the OpCo's monetary obligations under the leases.
CPLV lease
initial lease amount: $160 million rent for the first five years (subject to the escalator described below)
rent resets in years 6 and 11 with 80% fixed or 20% variable (variable portion adjusted based on 13.0% of change in revenue)
fixed rent will be subject to an annual escalator equal to the greater of the consumer price index (or CPI) or 2.0%
Non-CPLV lease
initial lease amount: $475 million rent for the first three years
rent resets in years 4 and 6 with 70% fixed or 30% variable (variable portion adjusted based on 19.5% of change in revenue), and in year 11 with 80% fixed or 20% variable (variable portion adjusted based on 13.0% of change in revenue)
fixed rent will be subject to an annual escalator, beginning in the seventh year, equal to the greater of the CPI or 2.0%