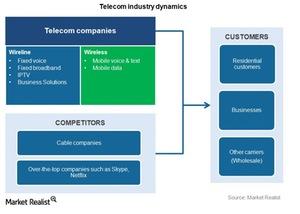 An overview of the US telecom industry
By Ray Sheffer

Updated
Telecommunications
Telecommunication, or telecom, companies provide fixed and mobile voice, text, and data transmission to consumers, small businesses, enterprises, and government entities. Traditionally, telecom companies made money mainly by providing voice calling, text messaging, and Internet connectivity through wireline or landline connections. It offered its services to consumers and businesses. Now, the business is driven wireless along with wired internet, data, and business solutions.
Article continues below advertisement
Wireline
In wireline, telecom companies sell voice and data services to customers. They offer traditional landline phones and VoIP (Voice over Internet Protocol). For the Internet, they give solutions ranging from basic connectivity over the usual DSL (digital subscriber line) to high-speed connections. In home entertainment, they provide television services through IPTV (Internet Protocol television). They also sell advanced services in video conferencing, high bandwidth dedicated lines, and secured communication setups to their large customers.
Wireless
In wireless, telecom companies primarily make money by selling subscription plans for voice and data. They also sell equipment—like phones, notebooks, and tablets. They provide wireless hotspots across the country.
Article continues below advertisement
Consumer and business segments
Although telecom companies provide voice and data services to consumers and businesses, the nature of these services differs significantly between the two customer segments. While residential customers mainly use wireless services, businesses use wireline to get high-capacity broadband and advanced communications services. Also, telecom companies rent their facilities or networks—providing wholesale data and communication access—to other carriers.
Key companies in the US
AT&T (T), Verizon (VZ), and Sprint (S) are the large integrated telecom companies. They're publicly-traded companies. They provide wireless and wired services. T-Mobile (TMUS) is a listed national wireless operator. Traditionally, regional wireline players—like CenturyLink (CTL), Frontier Communications (FTR), and Windstream Holdings (WIN)—are the other key telecom companies listed in the US.