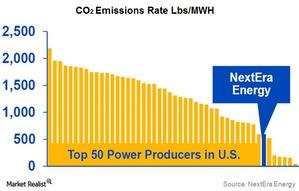 NextEra Energy may be the greenest utility, but not the cleanest
By Matt Phillips

Nov. 27 2019, Updated 7:22 p.m. ET
Emissions
To determine which is the greenest power company in the US, we need to consider emissions.
NextEra Energy (NEE) owns the highest number of renewable generation facilities in the US. And renewable power is the cleanest source of electricity. However, NextEra also owns fossil fuel-powered facilities that release harmful emissions into the environment. So although NextEra is not the cleanest power utility in the US, its emissions are among the lowest in the industry.
Article continues below advertisement
NextEra on emissions benchmark
According to a report released by the Natural Resources Defense Council last year, NextEra ranks as the seventh most efficient power producer in the US. NextEra releases 594 pounds of carbon dioxide, or CO2, for each MWh (megawatt hour) of electricity generated.
CO2 is the major pollutant released by power plants producing electricity. So, benchmarking power companies based on CO2 emissions is a good way to rank them.
Large US power producers Ameren Corporation (AEE) and Exelon Corporation (EXC) emit less CO2 per MWh of electricity produced than NextEra. Out of all of the companies held by the Select Sector Utilities Select Sector Fund (XLU), Public Service Enterprise Group (PEG) produces electricity with the lowest CO2 emissions.
Power plants are the major sources of CO2 emissions in the US. The U.S. Environmental Protection Agency has passed strict regulations aimed at reducing CO2 levels released by power producers in the next decade.