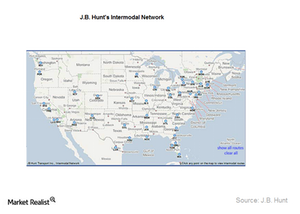 A look into J.B. Hunt's Intermodal segment
By Ally Schmidt

Jan. 5 2015, Updated 11:23 a.m. ET
What's intermodal transportation?
Intermodal transportation means transporting freight in containers or vehicles that can use different transport modes—like rail, ship, and truck—without handling the goods. By reducing the handling of goods, it reduces damage and loss. It also improves security. Reduced cargo handling allows freight to be transported faster.
Article continues below advertisement
JBHT's Intermodal segment
J.B. Hunt's (JBHT) Intermodal segment is the leader in the industry. The segment has transportation service agreements with most North American rail carriers. It provides intermodal freight solutions for its customers throughout the US, Canada, and Mexico. Some examples of rail carriers include CSX Corporation (CSX), Norfolk Southern Corporation (NSC), and Kansas City Southern Inc. (KSU). These companies are a part of the iShares Transportation Average ETF (IYT).
The segment also provides drayage services. Drayage is used to describe the trucking service from an ocean port to a rail ramp, warehouse, or other destination. These services are provided through company-owned tractors for the majority of its intermodal loads. When it's economical, JBHT also utilizes third parties. By performing their own drayage services, JBHT is able to provide cost-competitive and seamless coordination of the combined rail and drayage movements for customers.
The segment moves customers' cargo with combinations of truck and train transportation. The segment's trailing equipment totaled 69,979. The equipment is usually cube containers. The containers are 53 feet high. JBHT also owns and maintains its own chassis fleet. It consists of 59,882 units. JBI also manages a fleet of 3,448 company-owned tractors, 646 independent contractor trucks, and 4,187 company drivers. At the end of 2013, JBI's total employee strength was 4,694. In 2013, the JBI segment's revenue was $3.5 billion.