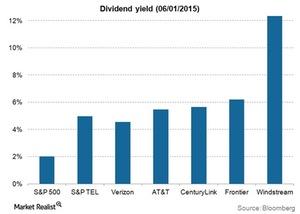 What kind of investors might like the telecom industry?
By Ray Sheffer

Updated
Investors seeking high dividend yield
Telecom is a defensive industry. It usually performs better than the market during recessions. It underperforms during periods of economic expansion. It provides stable cash flows and dividends throughout the ups and downs of the business cycle. Also, telecom gives the highest dividend yield among the industries in the S&P 500. The company with the highest dividend yield in the S&P 500, is also in the telecom industry.
Article continues below advertisement
Wireline telecom companies' high dividend yields 
Telecom companies—particularly wireline and large integrated players like AT&T (T) and Verizon (VZ)—usually have stable cash flows. In most cases, these companies maintained their dividend payouts in the past.
Investors looking for high dividend yield in a low-interest rate environment may like the telecom industry. The US ten-year Treasury yields remained lower than 4% since the end of 2008. In 2014, the yields largely remained under 3%. At such low yields, investors may prefer sectors with high dividend yields—like telecom.
Telecom has a high dividend payout. At the end of 4Q14, telecom's dividend payout was 55.4%—compared to the S&P 500 at 35.8%. However, a high payout in a stable industry like telecom—particularly in the wireline segment—may restrict significant growth in dividends in the future.
In 2014, the telecom industry's dividend yield was 5%—compared to the S&P 500 dividend yield of 2%. Windstream (WIN) is a rural wireline company. It had the highest dividend yield of 12.4% in the S&P 500 as of January 6, 2015. The company also had an average dividend yield of 9.9% in the last five years. Frontier Communications (FTR) had a 6.2% dividend yield. CenturyLink (CTL) and AT&T had high dividend yields of ~5.5%.
Among the large telecom companies, Sprint (S) and T-mobile (TMUS) are the only companies that don't pay dividends. Sprint stopped paying dividends in 2007, when it recorded a significant loss.