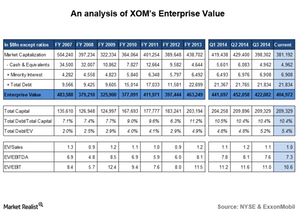 A key analysis of ExxonMobil's enterprise value
By Manas Chowgule, CFA

Jan. 19 2015, Updated 4:01 p.m. ET
Subjective metrics
So far, we've discussed ExxonMobil's (XOM) financial statements objectively. Now, let's start looking at its metrics subjectively.
First up, let's take a look at its enterprise value (or EV), the "complete" value of the company, including the market value of its equity (market capitalization) and its net debt (debt less cash). Think of a company's EV as the minimum amount that you would be on the hook for if you decided to take over the entire company.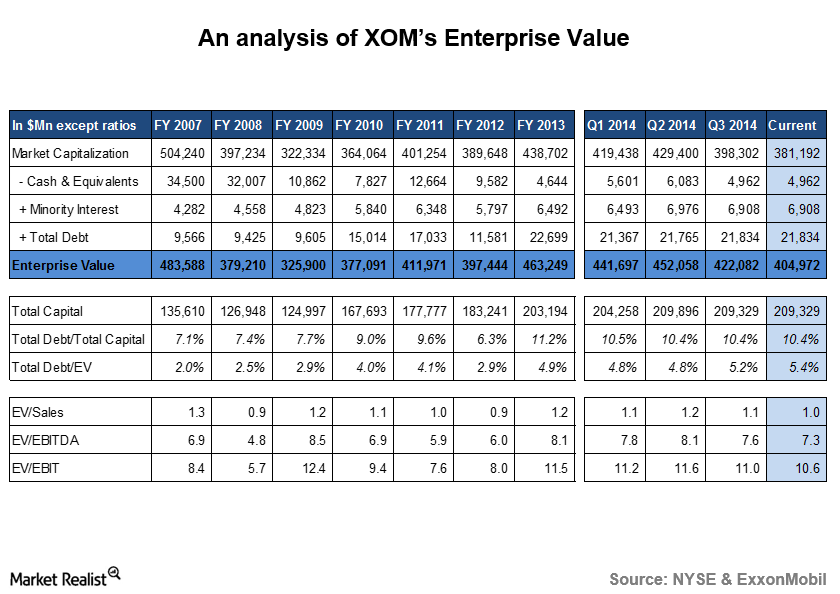 Article continues below advertisement
ExxonMobil's enterprise value
XOM's EV is down by ~16% since 2007—the biggest contribution for which has come from a ~20% smaller market capitalization today. But this doesn't mean the company has eroded value.
On the contrary, the company has spent almost a quarter of a trillion dollars rewarding shareholders via dividends and buybacks over the last seven years. About 1.3 billion fewer XOM shares trade today compared to the 2007 level.
Plus, ExxonMobil's cash levels have come down from well in excess of $34 billion at the end of 2007 to just under $5 billion now.
On the other hand, a doubling of its debt since 2007 has contributed about $10 billion to its EV.
Currently, XOM trades at an EV of ~$400 billion. For context, its global peers Chevron (CVX) and Royal Dutch Shell (RDS.A) trade at EVs of~$210 billion and ~$220 billion, respectively.
ExxonMobil is the largest holding of the Energy Select Sector SPDR Fund (XLE), at ~17%, and the second-largest holding of the SPDR S&P 500 ETF (SPY), at ~2%.
EV ratios
XOM's debt has been quite low in the context of its total capital and EV. Even after its recent debt raising, its debt as a ratio of its EV has remained quite low, at barely ~5%. The ratio in terms of net debt is even lower.
This means that XOM has some headroom to raise debt. This should come quite handy for the company when its earnings face some strain from the recent sharp drop in energy prices. We'll analyze XOM's debt metrics in a later part of this series.
Looking at XOM's valuation in terms of its sales, EBITDA, and EBIT, we can see that it's traded in a narrow range of EV multiples to these in the past. This isn't surprising for a mature company like ExxonMobil.