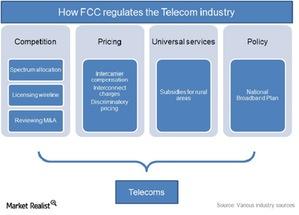 Investors should be aware of regulations in the telecom industry
Telecom regulation
Telecom is a regulated sector in the US and other countries across the globe. The telecom industry is regulated because market forces can't maintain competition within the highly capital-intensive industry.
Also, telecom is an industry with network effects. In industries with network effects, the utility of a service to customers increases quickly as more customers start using it. As a telecom network's size increases significantly, customers may prefer the larger network over smaller players. As a result, a single company may dominate the telecom industry.
In the US, the FCC (Federal Communications Commission) regulates the telecom and media sectors.
Article continues below advertisement
In the US telecom industry, the FCC regulates the competition, intrastate pricing, and foreign communication. It also allocates and grants licenses. It supports universal telecom services in urban and rural areas. It works in telecom services to protect consumers. The FCC also makes the National Broadband Plan.
Competition
The FCC grants wireline licenses. It allocates spectrums—through auctions—for wireless telecom to existing players and new entrants in the industry. Licensing telecom services is a significant barrier to entry for new entrants. Please read Verizon and AT&T are interested in the AWS-3 spectrum auction to understand more.
Along with the US Department of Justice, the FCC enforces the antitrust laws. The laws are mentioned in the national telecom policy. It makes sure that there are enough players in the industry to maintain competition. Telecom companies have to get prior approval from the FCC for mergers and acquisitions in the industry.
Article continues below advertisement
In the past, the FCC rejected large telecom companies' proposed mergers. In 2011, the FCC blocked the proposed merger of T-Mobile (TMUS) and AT&T (T). Both of the companies had significant market share in the industry. The merger was against consumer interests. Please read Will regulators pass AT&T's bid to acquire DirecTV? to learn more about some of the FCC's other actions.
Pricing
The FCC primarily regulates prices that different carriers charge each other for intrastate and international communication. Also, it closely monitors and imposes fines on any discriminatory pricing by telecom companies to consumers and businesses.
Article continues below advertisement
Policy
The FCC devised the National Broadband Plan. It provides a broader understanding of where broadband is heading in the next decade.