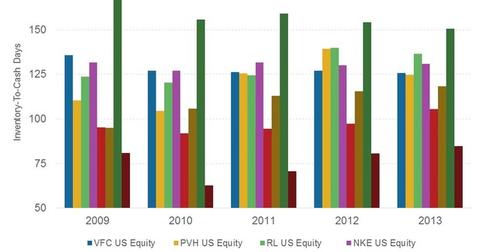 Inventory Management Is Critical Zone For VF Corp. And Its Peers
By Phalguni Soni

Updated
Seasonality
Sales for the apparel industry overall have a strong seasonal element. The same goes for inventory levels and profits. In 2013, only 19% of the year's sales were generated in the second quarter for VF Corporation (VFC) compared to 29% in the fourth quarter. This is due to several of the following reasons:
Winter apparel is priced higher, in general, compared to other seasonal wear.
VFC's Outdoor & Action Sports coalition, its largest segment, derives most of its revenues in the second half of the year.
Revenues for the holidays and back-to-school seasons, which usually see retail (XRT) sales spike, also fall during the fall-winter months.
Article continues below advertisement
Profits
The skewed revenues also resulted in the uneven distribution of operating income. Only 12% of operating income was earned in the second quarter of 2013 compared to 39% in the third quarter. For this reason, VFC's results and those of other apparel firms need to be compared on a year-on-year basis rather than successive quarters.
Inventory management
For fashion and apparel firms, inventory management by tracking inventory levels is critical. Inventory levels signify whether products are in demand or not. They also indicate the level of discount sales the firm needs to implement in the coming months. Higher inventory levels relative to sales mean higher discounts and vice versa.
From a cash flow perspective, the inventory-to-cash days is one of the most important metrics in working capital management. It represents the number of days taken for cash to be realized from the company's inventories. In general, fewer days taken to convert inventories to cash implies better inventories management and vice-versa.
Article continues below advertisement
VFC's inventory-to-cash days at 126 days in 2013 approximates American peers PVH Corp. (PVH), NIKE (NKE), and Ralph Lauren (RL). In contrast, international rivals Lululemon Athletica (LULU), Inditex (ITX.MC), and Hennes & Mauritz (HM-B.ST) reported 85, 106, and 118 days, respectively. These were some of the best numbers in the industry.
Fast fashion
Spain's Inditex (ITX.MC) and Sweden's Hennes & Mauritz (HM-B.ST) (or H&M) are recognized as having some of the world's best supply chain management systems, and not just among apparel firms.
Spain's Inditex (ITX.MC), which owns the Zara, Massimo Dutti, and Bershka brands, is the pioneer of the fast fashion rage. Using a centralized system of distribution, differential production systems, and, more recently, RFID (radio frequency identification) tags for inventory, Zara specializes in the speed at which it can emulate catwalk designs and bring them to consumers at an affordable cost. This can be as little time as two weeks, keeping the brand in the limelight and in demand.
H&M, the world's second largest clothing retailer, has a design team geared for both long- and short-term fashion trends. Both Inditex and H&M manufacture part of the inventory in advance and part of the stock based on current trends.
Article continues below advertisement
Key initiatives
VFC recently announced its merchandising excellence and dynamic replenishment projects. These would help drive buying and inventory efficiencies and improve margins. However, due to the challenging environment in certain markets and segments, it's doubtful these would improve inventory metrics for the company in the short-term.