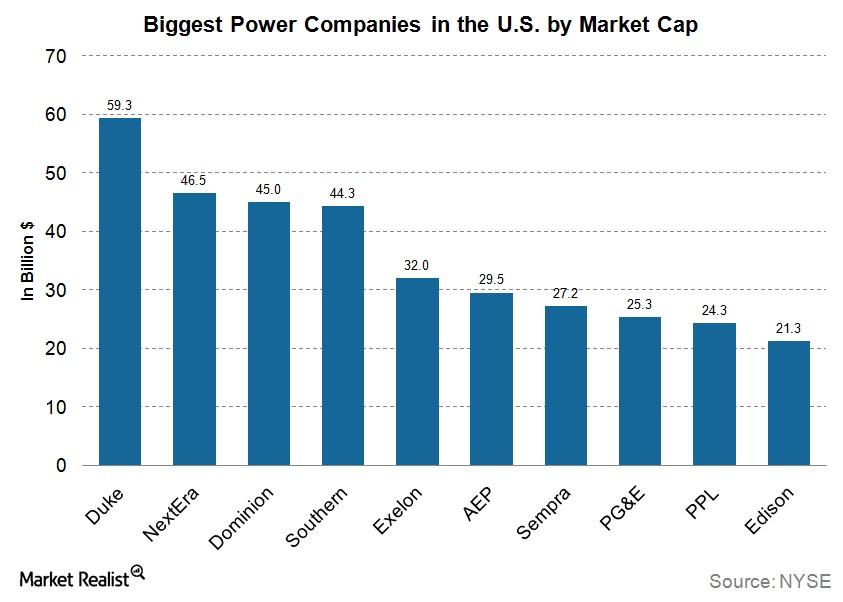 Utilities company overview: NextEra Energy
About NextEra
Headquartered in Juno Beach, Florida, NextEra Energy Inc. (NEE) is the largest renewable electricity generator in the US. NextEra operates approximately 17% of installed wind capacity and 14% of installed solar capacity in the US.
NextEra owns nearly 44,000 MW (megawatts) of electricity generation capacity and operates in Canada and 26 states across the US. NextEra Energy's revenue totaled $15.1 billion in 2013.
Article continues below advertisement
Article continues below advertisement
History
NextEra's history dates back to the 1920s when it was known as FPL. Back then, Florida was a hub of economic activity and many people were migrating to the state. This led to a surge in electricity demand in Florida. Capitalizing on the increased need, FPL began its operations with a generation capacity of 70 MW.
FPL changed its name to NextEra Energy in 2010 to reflect its leadership position in renewable energy—the future of power, in the company's estimation.
Position by market cap
NextEra Energy (NEE) is the second-largest power company in the US after Duke Energy (DUK) in terms of market capitalization. NextEra Energy's market capitalization as of December 23, 2014, was $46.5 billion.
Dominion Resources (D) and Southern Company (SO) are the third- and fourth-largest US power companies with respective market capitalizations of 45.0 billion and $44.3 billion as of December 23, 2014.
By weighting, NextEra Energy ranks second among the top holdings in the Select Sector Utilities Select Sector SPDR Fund (XLU).
In the next part of this series, we'll learn how NextEra has performed on Wall Street compared to the broader market and the utility sector.