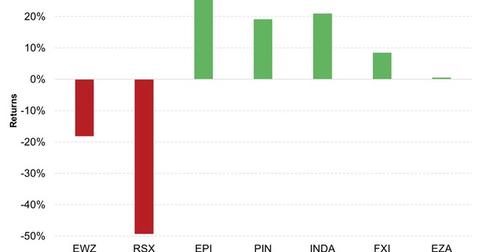 What India ETF investors should watch for in 2015
By David Ashworth

Jan. 12 2015, Updated 10:46 a.m. ET
Performance in 2014
Among the informal BRICS (Brazil, Russia, India, China and South Africa) group, India ETFs were the clear winners. The ETFs chosen for this comparison were:
The three India ETFs returned positive double-digits in the last calendar year. The returns were in the range of 19–26%. Meanwhile, the Chinese ETF came a distant second. It had 8.5% returns.
Article continues below advertisement
What should you look out for in 2015?
We've described a number of indicators in this series. It will be a very tough balancing act for the government and the central bank to get all of the indicators reading healthy again. However, it's important that investors watch all of the indicators this year. India needs to be brought back to a steady growth path. Some of the indicators are related. So, an improvement in one indicator could be positive for another indicator.
Whether you're a current or potential investor, you should watch the indicators for poor performance. A poor performance would send out a clear signal that India's economy is regressing. This would impact India's efforts to become more business friendly.
To read about India's efforts to become business friendly, please read To do or not to do business in India.
As a result, foreign interest and investment will decline. This will lead to less money for Indian companies. Eventually, it will be reflected in the performance of India ETFs.