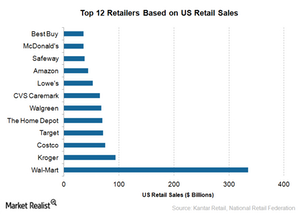 Focus on online sales: Best Buy goes head-to-head with Amazon
Clicks battling bricks
Traditional bricks and mortar retailers like Best Buy (BBY), Target (TGT), and RadioShack (RSH) are being pressured by the upsurge of online retailers. The convenience and lower prices offered by Amazon.com (AMZN) and online auction sites such as eBay (EBAY) have managed to give even retail giant Wal-Mart Stores (WMT) a run for its money.
The SPDR S&P Retail ETF (XRT) tracks the S&P Retail Select Industry Index and has holdings in several retailers across various product categories.
Article continues below advertisement
Amazon's amazing growth story
STORES Magazine, a publication of the National Retail Federation, published the top 100 retailers list in 2014 as compiled by Kantar Retail. The list featured Amazon in ninth place with $43.9 billion in 2013 US retail sales. Best Buy took 12th place with $35.8 billion US retail sales.
This is the first time that a pure-play e-commerce company made it on to the list, which saw retailer giant Wal-Mart in first place, followed by Kroger (KR). Amazon has grown from an online bookstore to a major online retailer, with product offerings ranging from grocery to consumer electronics.
Best Buy improving its online sales
Best Buy's online sales accounted for 13% of its total sales in fiscal 2014, growing 20% since last fiscal. To increase web traffic and web conversion rates, Best Buy is working on enhancing its customer experience by increasing speed, improving inventory availability, and providing better home delivery.
The company has improved its online shopping site by enhancing its search engine and improving the site's visual appeal, as well as its content and product price information.
Ship-from-store approach
To address inventory issues associated with online sales at its distribution centers, Best Buy rolled out a ship-from-store strategy at more than 1,400 locations. This helped increase the speed of delivery and reduce out-of-stock scenarios. The strategy also resulted in a greater number of online conversions.
Wal-Mart is using its wide distribution network to test similar strategies such as same-day delivery, which it's using to fend off Amazon. But the challenges don't end there.
"Showrooming" is another phenomenon working in favor of online retailers.