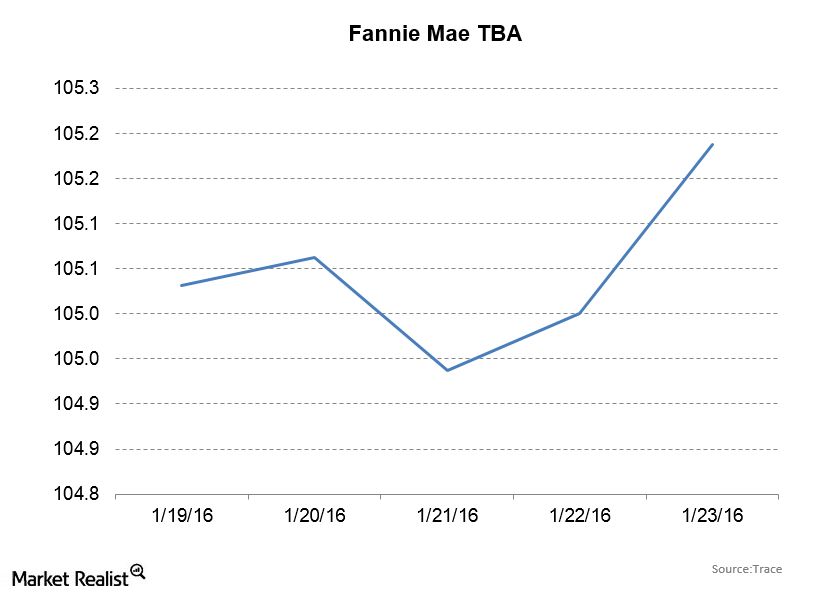 Fannie Mae TBAs follow bonds higher and pick up 7 ticks
By Brent Nyitray, CFA, MBA

Jan. 27 2015, Published 9:38 a.m. ET
Fannie Mae and the to-be-announced (or TBA) market
When the Federal Reserve talks about buying mortgage-backed securities (or MBS), it's referring to the to-be-announced (or TBA) market. The TBA market allows loan originators to take individual loans and turn them into a homogeneous product that you can trade. TBAs settle once a month.
Fannie Mae loans go into Fannie Mae securities. TBAs are broken out by coupon rate and settlement date. In the chart below, we see Fannie Mae's 3.5% coupon for February delivery.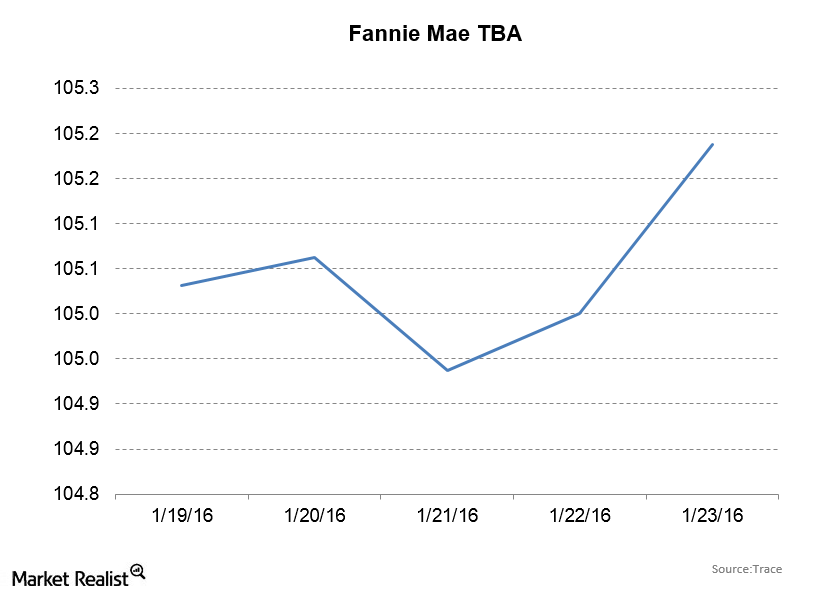 Article continues below advertisement
TBA market rises along with the bond market
The Fannie Mae 3.5% TBA started the week at 105 1/32 and picked up 7 ticks to close at 105 7/32. Bonds rallied 4 basis points. Mortgage rates have grudgingly followed the ten-year lower, and last week they went up by 4 basis points.
As interest rates have fallen, we've seen TBAs lag bonds. This has been due to changing prepayment assumptions. For example, consider the Fannie Mae 3.5% bond above. If you bought the bond for 105, you know you're going to get par eventually for it. This means the crucial question is how many coupon payments you'll receive before you get prepaid. Many investors had assumed that the this move would have less of an effect on refinances due to a phenomenon called "prepayment burnout." This basically means that each time the markets re-enter a phase of low rates, there are fewer and fewer borrowers who will be able to refinance.
Implications for mortgage REITs 
Mortgage real estate investment trusts (or REITs) and ETFs like Annaly Capital Management (NLY), American Capital Agency (AGNC), Capstead Mortgage (CMO), the iShares 20+ Year Treasury Bond ETF (TLT), and the VanEck Vectors ETF Trust (MORT) are the biggest non-Central bank holders of TBAs.
In general, you can consider mortgage REITs to be one of the biggest lenders in the mortgage market. When TBAs rally, it means capital gains for mortgage REITs. These increase their return, especially when added to their interest income.
You should take caution, however. Since REITs use leverage, volatility in interest rates can work against them. This is because REITs watch their interest rate risk and adjust their hedges accordingly. If rates fall too rapidly, hedging volatility and prepayments can offset some of their gains.