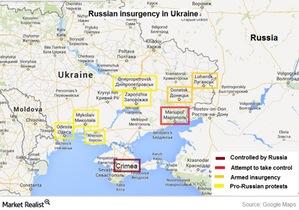 Crimea, annexed – Is Mariupol next for Russia?
Mariupol next on Russia's list
January 24 saw the city of Mariupol, Ukraine, shelled by rockets originating from Russia. The incident, along with a statement made by a separatist leader, seems to indicate Russia's intention to grab yet more of Ukraine's land. So far, Russia's strategic intentions are unconfirmed.
On March 17, the Crimean peninsula in Ukraine was annexed by Russia. Yet, Russia's hold over Crimea remains weak. Russia could easily lose control of the area should Ukrainian forces strengthen or Western forces get involved. So, the artillery barrage in Mariupol could mean Russia is preparing to launch an offensive that would secure its hold on Crimea.
Article continues below advertisement
Implications of Russia's insurgency in Ukraine
Russia's land grab of Crimea has had serious consequences for its economy:
flight of capital – this has been caused by the increased risk and uncertainty surrounding Russia's economic stability
sanctions from the West – these have been ramped up in response to Russia's continued insurgence in Ukraine. Defense and energy industries have been primarily targeted, to stop the flow of investment into Russia. So far, sanctions have been effective in this respect. In contrast, Russia's retaliatory set of sanctions on certain food imports from the West hasn't had the desired effect
international isolation – there are fears that Russia will fall behind another Iron Curtain
What's more, the Russian economy is currently struggling to handle another big blow to its finances—the oil price crash.
Market impact
The price of ETFs such as the VanEck Vectors Russia ETF (RSX) and the iShares MSCI Emerging Markets Eastern Europe ETF (ESR), which give investors exposure to Russian securities, have declined substantially on account of the political turmoil between Russia and Ukraine.
The situation has even had repercussions on developed markets. The iShares MSCI EAFE Index ETF (EFA), which tracks the performance of equity markets in European, Australasian, and the far Eastern markets, the iShares S&P 100 ETF (OEF), which tracks the top 100 companies in the US, as well as the iShares Core S&P 500 ETF (IVV), which tracks the large capitalization sector of the US equity market, have all reacted to major developments in the Russia-Ukraine crisis.
The oil-rich, export-oriented economy of Russia is definitely in an economic quagmire.