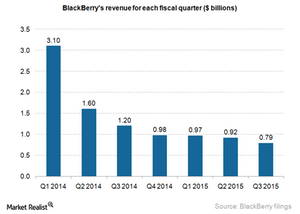 BlackBerry's revenues continue to decline
By Puneet Sikka

Updated
BlackBerry turns its attention to revenue growth
In the previous part of this series, we discussed how BlackBerry's (BBRY) CEO, John Chen, accomplished the company's goal of achieving profitability. However, this won't be enough for BlackBerry's investors. Achieving profitability is fine, but the company needs to grow its revenues now.
Even other technology companies—like Twitter (TWTR), Amazon (AMZN), and Groupon (GRPN)—have taken net losses in the past quarters. But investors have maintained faith in them mainly because these companies continue to grow their revenues at a rapid rate. Read Why Amazon could take another operating loss in Q4 2014 to learn more details about Amazon's continued operating losses.
Chen acknowledged the importance of growing revenues. During the fiscal 3Q15 earnings conference call, he mentioned that after having achieved profitability, the company's next goal will be to grow its revenues.
BlackBerry's revenues were woefully short of expectations in the last quarter. Analysts had expected revenues of $935 million, but the company could only achieve $793 million. Revenues dropped by a massive 34% year-over-year, as the chart below shows.
Article continues below advertisement
All BlackBerry business segments showed negative revenue growth
BlackBerry derives its revenues mainly from three main businesses: Hardware, Service, and Software. The company derived about 46%, 46%, and 8% of its revenues from each of these three segments, respectively, last quarter. Within the hardware segment, the company sells smartphones to both enterprises and consumers.
BlackBerry introduced the Passport last quarter and more recently introduced its Classic smartphone. BlackBerry is focusing on selling these smartphones to enterprises, unlike Apple (AAPL), which mainly sells iPhones to consumers.
Within the service segment, BlackBerry earns revenues through a monthly infrastructure access fee that it bills to subscribers of BlackBerry 7 and other older operating systems. Then the software segment of BlackBerry provides enterprises with mobile device management (or MDM) services.
All these segments showed negative revenue growth. In this series, we'll talk about BlackBerry's hardware business. In our next BlackBerry series, we'll discuss BlackBerry's other business segments.