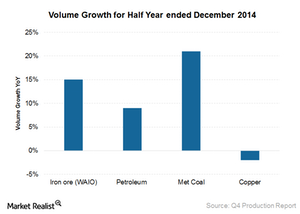 BHP reports mixed production results and maintains its guidance
Production results
Overall, BHP reported mixed 2Q15 results. It recorded a 9% production increase during the December 2014 half-year. Eight operations and five commodities achieved record half-yearly production.
At Western Australia Iron Ore (or WAIO), the ramp-up of Jimblebar continued and the company improved the availability, utilization, and rate of its integrated supply chain.
Article continues below advertisement
Article continues below advertisement
Hits and misses
BHP's metallurgical coal volumes were strong for another quarter, with production up 6% QoQ.
Petroleum was strong, with volumes above market expectations due to a strong liquids volume. BHP announced a 40% rig reduction, which is equal to ten rigs for the US onshore business, to be completed by fiscal 2015.
Iron ore production was slightly below market expectations. It was also down 1% quarter-over-quarter (or QoQ).
BHP's copper production recovered strongly from the last quarter. It rebounded 9% QoQ following September's weak quarter, when BHP had missed market expectations due to declining ore grades, industrial action, and power outages in northern Chile.
We'll discuss key takeaways from BHP's four pillars in detail later in this series.
Unchanged guidance
The production guidance for the company remains unchanged. It expects 16% production growth over two years—to the end of the fiscal 2015. BHP's fiscal year runs from July 1 to June 30.
BHP's peer Rio Tinto (RIO) also delivered a solid set of numbers for production in its operational review for the year ended in December.
Brazilian miner Vale (VALE) will report its results for the year ended December 2014 on February 26. Cliffs Natural Resources' (CLF) will announce its results for the year ended December 2014 on February 2.
The iShares MSCI Global Metals & Mining Producers ETF (PICK) invests in these stocks, and BHP accounts for 18.14% of its total holdings.
Before we discuss BHP's production results and key highlights, we'll briefly overview BHP's segments in the next part of this series.