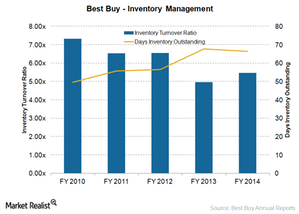 Best Buy attempts to optimize inventory levels
Inventory management
Inventory management is crucial for retailers like Best Buy (BBY), GameStop GME), RadioShack (RSH), and Wal-Mart Stores (WMT). These retailers are part of the SPDR S&P Retail ETF (XRT).
A high level of inventory ties up a company's funds and also risks becoming obsolete. On the other hand, too little inventory is equally bad, as a company will face out-of-stock issues related to products that are in demand.
Article continues below advertisement
Key metrics
Inventory-turnover ratio and days-inventory-outstanding are two metrics used to assess a company's inventory management. Best Buy's inventory-turnover ratio improved in fiscal 2014 to 5.48 compared to the previous year, indicating that the company is moving its inventory efficiently.
Peers in the consumer electronics industry including GameStop and hhgregg, Inc. (HGG) had inventory-turnover ratios of 5.38 and 5.45, respectively, in fiscal 2014. Amazon.com's (AMZN) inventory-turnover ratio was 8.06.
Large retailers including Wal-Mart and Target (TGT), which sell other products as well as consumer electronics, had respective inventory-turnover ratios of 8.08 and 6.14.
Product availability
One of Best Buy's optimization goals is to avoid out-of-stock situations online, especially during holiday season. Best Buy increased inventory availability by rolling out its ship-from-store concept to 1,400 stores. This has helped boost online sales, as previously, products were shipped only from select stores.
Product returns
At Best Buy, returns, replacements, and damages account for nearly 10% of revenues and have cost the company over $400 million in losses each year. The company is now focused on reducing these losses. It has allocated some store space to showcase and sell clearance and returned inventory, and it's also disposing of some items through its online channels.
In 2014, the company launched a new section on its website called Best Buy Outlet, which expands the online visibility of open-box inventory that can be purchased online and picked up in-store. The company is also increasing the percentage of returned products that are certified by its tech support team, Geek Squad. These certified return products reassure customers about the quality of the product.
In the next part of this series, you'll discover how Best Buy is improving its relationships with suppliers.