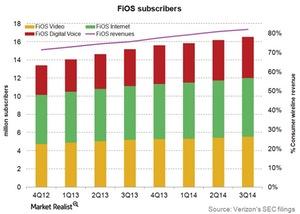 Analyzing the wireline telecom network and its evolving structure
<p>A wireline network includes interlinked connection and redistribution systems. The network allows information—like voice and data—to travel electronically. </p>
Wireline network
A wireline network includes interlinked connection and redistribution systems. The network allows information—like voice and data—to travel electronically. Traditionally, local and long distance telephony—including voice calls, messaging, and fax—were the primary wireline services. They traveled, or were transmitted, over a network of copper wires and switches. The wires and switches connected calls between users.
Now, the network includes the copper infrastructure connecting traditional landlines and pay phones. It mainly includes the broadband network delivering VoIP (Voice over Internet Protocol), Internet, TV services, and managed private communications.
Broadband infrastructure is a critical resource for economic development. Most countries across the globe have strategic plans in place—like the National Broadband Plan—to expand and develop their network.
Article continues below advertisement
Article continues below advertisement
Evolving broadband network
In terms of infrastructure, there's a trend to adopt new technologies to increase bandwidth over the wireline network. Previously, telecom companies provided Internet connectivity to users over the copper network. It was combined with a high-speed fiber component through a basic DSL (digital subscriber line).
Fiber is also called fiber optic. It's an efficient, high-capacity physical medium—compared to copper wires. It transmits information—including data and voice. Telecom companies couldn't meet the demand for high bandwidth. High bandwidth was needed because of increased data usage.
So, telecom companies started upgrading their network with fiber—particularly in the last mile—to provide high-speed Internet connections. The last mile refers to the link from the edge of a telecom network to a customer's premises. Also, they're providing the Internet on enhanced broadband networks with advanced DSL. They can provide similar speeds as fiber.
Key players' initiatives
An example of fiber usage is Verizon's (VZ) FiOS. AT&T's (T) U-Verse is an example of enhanced broadband. U-Verse and FiOS attracted a significant consumer base.
As we can see from the above graph, FiOS subscribers increased by 9% year-over-year, or YoY, from 3Q13 to 3Q14.
Now, FiOS contributes to 82% of Verizon's consumer wireline revenues. Read FiOS Quantum service: A positive for Verizon's wireline business and Why U-Verse is driving growth at AT&T's wireline business to understand how high-speed internet is shaping these businesses.
Other wireline telecom companies—like Windstream Holdings (WIN), CenturyLink (CTL), and Frontier Communication (FTR)—also deployed fiber networks across the country.