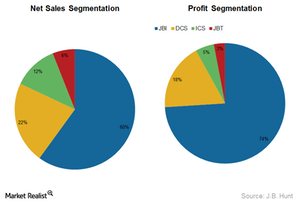 Analyzing how J.B. Hunt makes money
J.B. Hunt's operations
J.B. Hunt (JBHT) is a leading trucking company in the US. It provides different types of transportation solutions to its customers. In this part of the series, we'll discuss how JBHT makes money. In 2013, JBHT's revenues increased by 500 million. Its total revenue was $5.6 billion. The operating income was $575 million. EPS (earnings per share) increased by 11% to $2.87 per share.
Article continues below advertisement
Net sales and profit segmentation in 2013
As you can see in the above chart, JBHT makes disproportionately high profit and sales from the JBI segment. The JBI segment is the Intermodal segment. Intermodal services are transportation services. The transportation services are provided across different transport modes—like road and rail.
JBHT can provide transportation services due to its partnerships with third parties—like Burlington Northern Santa Fe (BNI), Union Pacific (UNP), and Norfolk Southern (NSC). These companies are a part of the PowerShares DWA Industrials Momentum ETF (PRN).
The company provides customized transport solutions to its customers. It provides the transport solutions through its Dedicated Contract Services segment, or DCS. JBHT also has two relatively smaller segments that provide different freight solutions.
What are the major costs?
To be able to serve its customers efficiently, JBHT has partnerships and agreements with many third parties. Purchased transportation is one of its major costs. In fact, 56% of JBHT's total cost is purchased transportation. Employee costs include salaries, wages, and benefits. They form 23% of the company's costs. As expected, fuel is a significant cost for JBHT. It's 9% of the company's total costs. Depreciation and material costs form 5% and 4% of the company's total costs, respectively.