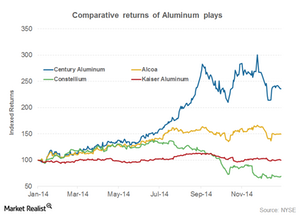 How Alcoa Looked In 2014
Global equity markets
The year 2014 has finally drawn to a close. It's been a turbulent year for global equity markets. The year started on a good note. Growth, it seemed, was finally getting back on track, and the US looked set to grow at a decent pace. Europe was also sorting out its sovereign debt woes. China, however, was slowing down. Having said that, world markets at large seemed to accept this as the new normal for the Chinese economy.
The latter part of the year, on the other hand, demonstrated the fragility of economic recovery.
Article continues below advertisement
Commodity shock
The year 2014 looked especially positive for commodity plays. Commodities are highly cyclical. This basically means that the fortunes of commodity plays are tied to broader economic activity. For most commodities, 2014 was a roller coaster year. We'll discuss why in the next part of this series.
Aluminum plays
The aluminum industry stood out among commodity plays. Most aluminum plays closed the year with decent gains on Wall Street. The chart above shows the market share performance of listed aluminum plays.
Alcoa (AA) delivered ~50% returns in the 2014 calendar year. Century Aluminum (CENX) led the pack with ~135% returns. Currently, both of these companies are part of the SPDR S&P Metals and Mining ETF (XME). The XME also invests in mining companies such as Rio Tinto (RIO).
Constellium (CSTM) disappointed investors with its stock market performance. Its profits could be lower for several quarters.
In this series, we'll analyze the outlook for aluminum companies. We'll pay special attention to Alcoa's 2014 performance and to how investors can play Alcoa and other aluminum companies in 2015. We'll also look at major opportunities and threats for the aluminum industry.
In the next part of this series, you'll learn why aluminum players have outperformed other metal companies.