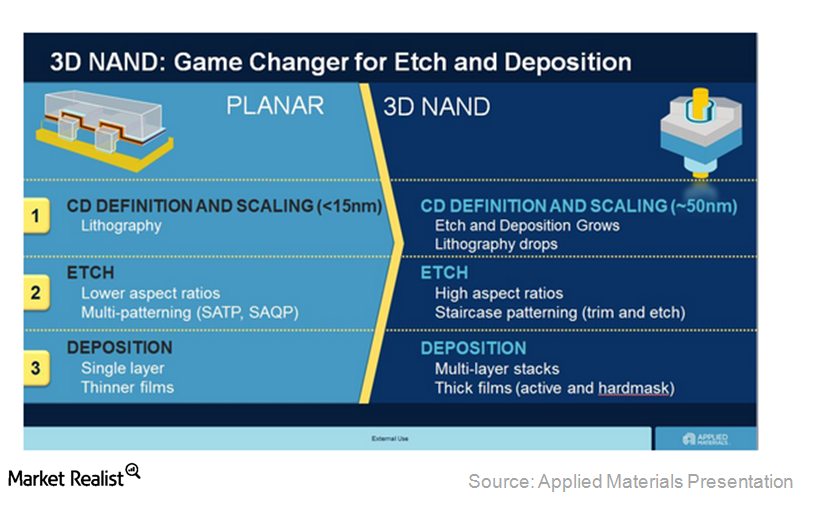 Why 3D NAND should drive Applied Materials's growth
Mobility and connectivity to drive AMAT's growth
Applied Materials (AMAT) CEO Gary Dickerson stated that mobility and connectivity will drive "significant growth" of the company. In his opinion, capital expenditure to make 3D transistors, or FinFet, is expected to fuel "a new wave of investment in 2015." As the below graphic shows, Applied Materials's management is optimistic about SSG products, particularly in deposition and etch (owing to 3D NAND technology) to play a meaningful role in expanding the company's market share.
If Applied Materials posts good results, it will benefit exchange-traded funds (or ETFs) like the VanEck Vectors Semiconductor ETF (SMH) that have significant exposure to Applied Materials.
Article continues below advertisement
Article continues below advertisement
Increased preference, shift to 3D NAND technology
An advanced type of flash memory, 3D NAND has 16 times more storage capacity than NAND memory chips. These chips are used in smartphones, cameras, and other mobile devices to store music, images, video, and data. In 2007, Toshiba (TOSBF) first discussed the concept of 3D NAND at the VLSI Symposium.
In August 2013, Samsung (SSNLF) received credit for being the first company to offer 3D NAND. In May 2014, Samsung announced the completion of its dedicated 3D V-NAND production facility. Micron Technology (MU) also made the transition from planar NAND flash to 3D NAND flash, and it claims to have completed 3D NAND memory samples.
According to Applied Materials SSG Executive Vice President and General Manager Randhir Thakur, "Trends in mobility are driving the need for complex 3D architectures that demand significant engineering innovations."
3D NAND to drive growth in semiconductor space
According to TrendForce, 3D NAND accounts for only 3% of the NAND flash industry's overall supply, as the majority of manufacturers are still in the testing and sample delivery phase. However, the market share for 3D NAND is expected to reach 20% in 2015. According to IHS research, 3D NAND technology is expected to account for the majority of total flash shipments, equivalent to 65.7% by 2017.