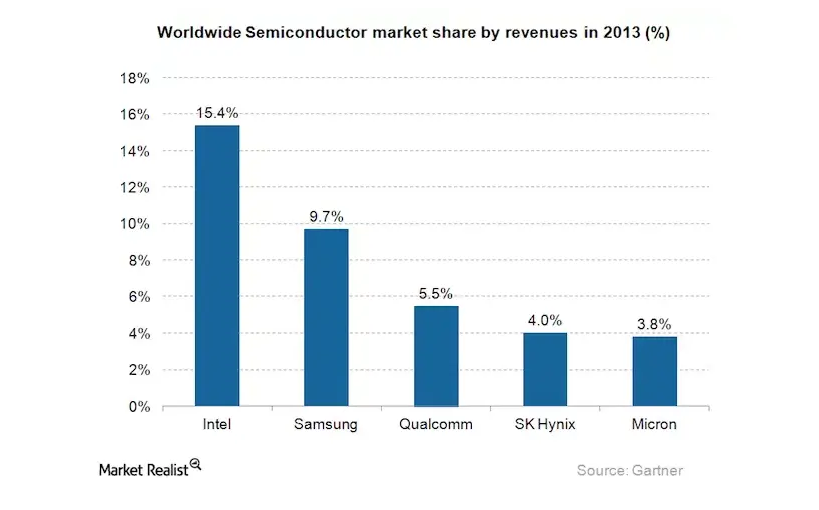 Overview: Micron Technology business segments
Micron Technology
Micron Technology, Inc. (MU) was founded in 1978 and is headquartered in Boise, Idaho. It's a global diversified semiconductor player.
According to information technology research company Gartner, Micron held tenth position in the worldwide semiconductor market in 2012. Micron's acquisition of Elpida put it in the top five rankings in 2013. As the chart below shows, Intel Corporation (INTC), Samsung Electronics Ltd (SSNLF), Qualcomm, Inc. (QCOM), and SK Hynix Semiconductor (HXCSF) are some of the leading players in the semiconductor market. Intel dominates the industry, mainly due to its dominance in supplying chipsets for PCs.
Diversified semiconductor memory devices manufacturer
Micron's products include RAM, NAND, and NOR. Each is sold under the following business segments:
Article continues below advertisement
CNBU, or computer and networking business unit – It includes DRAM and flash products sold to computer, networking, graphics, and cloud server markets. Micron generated 47% of its sales from this segment in 3Q 2014.
SBU, or storage business unit – It includes NAND flash components and SSDs, or solid-state drives for clients, enterprises, cloud, and removable storage markets. It also includes NAND flash products sold to Intel through IM Flash Technologies. Micron generated 22% of its revenue from this segment in 3Q14.
MBU, or mobile business unit – It is a key segment for Micron that includes DRAM, NAND, and NOR flash products meant for smartphone and tablet markets. This segment contributed 19% to overall revenue in 3Q14.
EBU, or embedded business unit – This segment includes DRAM, NAND, and NOR products for automotive and industrial applications. Micron generated 12% of its revenue from this segment in 3Q14.
Learn more about the company by reading Market Realist's series, Must-know overview of Micron Technology: A DRAMatic growth story.