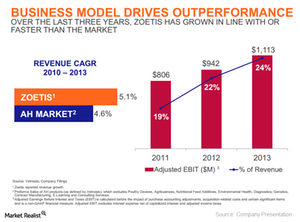 Zoetis: An attractive business model
Highlights of Zoetis' business model
One of the things Pershing Square highlighted in its investor letter was Zoetis Inc.'s (ZTS) business model. Zoetis, which was spun off last year from Pfizer (PFE), believes it has a competitive advantage via its business model that interconnects three capabilities.
Zoetis said in a recent statement that "its unique characteristics have established the company as the world leader in animal health, growing revenue faster than the market for the last three years (5.1% for Zoetis versus 4.6% for the Animal Health Market)." The three capabilities are described below:
Article continues below advertisement
Direct selling mode. Zoetis directly markets its products in around 70 countries across North America, Europe, Africa, Asia, Australia, and South America. The company sells its products in more than 120 countries. Operations outside the United States accounted for

58%

of its total revenue for the year ended December 31, 2013. Emerging markets contributed

26%

of its revenue for 2013. Its sales representatives include technical and veterinary operations specialists who visit customers, including veterinarians and livestock producers, to inform, promote, and sell its products and services.
Customer-focused innovation via Research & Development (or R&D). At its investor day, Zoetis said its R&D model is not just focused on bringing new products that will compensate the loss of exclusivity of the current portfolio. The company said it can combine innovation with investment in its current portfolio because it believes "products in animal health have a long life even after losing exclusivity." The management said that "by combining innovation with defending its current portfolio, it is creating a model which is more productive and more predictable and less expensive."
High-quality and reliable supply of products. Zoetis supplies products at competitive costs through a mix of internal and external supply sources enabled by its global manufacturing and supply chain network. It said that it has a network of 27 internal manufacturing facilities and about 200 external suppliers to manufacture and deliver its products to veterinarians and livestock producers in more than 120 countries. The company's annual report said its network uses a system of anchor and satellite manufacturing sites to maximize cost efficiencies.
Consolidation in the animal health space
At its investor day, Zoetis also highlighted its "ongoing emphasis on productivity improvements, its record of maintaining its manufacturing excellence, and its ability to integrate acquisitions seamlessly." The company recently announced the purchase of the animal health assets of Abbott (ABT) for $255 million. The animal health industry has seen consolidation this year with Novartis AG's (NVS) agreeing to sell its animal health unit to Eli Lilly and Company (LLY) for $5.4 billion in April.
Pershing Square added that "Zoetis' product portfolio is highly durable. Unlike many human health businesses, its business model is not based on bringing new products to market to compensate for the loss of patent exclusivity in its existing portfolio. Despite over 80% of its products lacking patent protection, generic competition in markets where Zoetis competes is minimal." The next part of the series will explain why generic competition is low in Zoetis' markets.