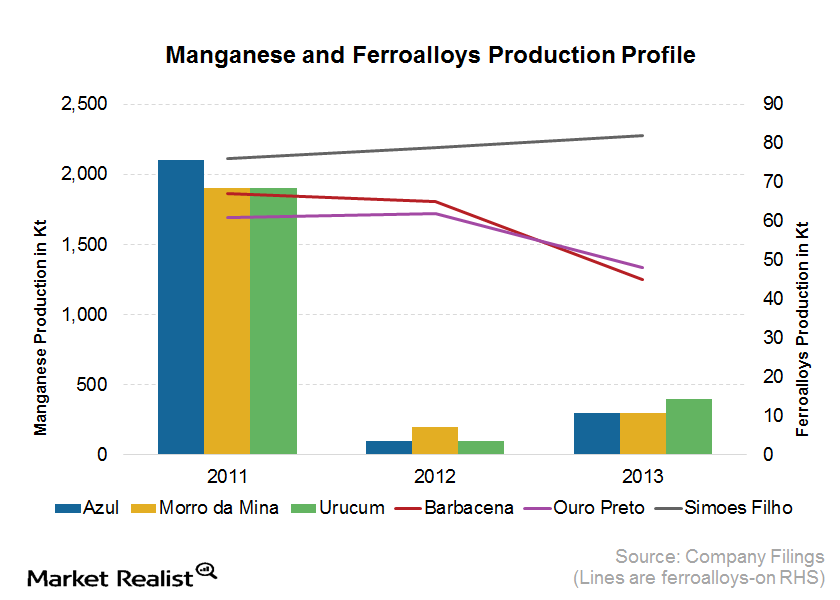 Vale SA in the manganese and ferroalloys business
Operations
Vale SA (VALE) conducts its manganese operations in Brazil through its wholly owned subsidiaries, Vale Manganês S.A., Vale Mina do Azul S.A., and MCR (Mineracao Corumbaense Reunida S.A.). The company has manganese mines and plants in the states of Para, Mato Grosso do Sul, and Minas Gerais, and ferroalloy plants in Minas Gerais and Bahia, Brazil.
Vale SA is the largest manganese producer in Brazil, accounting for roughly 70% of the country's market. The Azul Mine in Para is responsible for 80% of its output. The Brazilian mines of Azul in Para and Urucum in Mato Grosso do Sul are known for the high manganese content of their ore, which is at least 40% pure manganese.
Article continues below advertisement
Vale conducts its ferroalloys business through its wholly owned subsidiary, Vale Manganês. It's also the leader in manganese-based ferroalloys. The production of ferroalloys consumes significant amounts of electricity, representing 5.7% of its total consumption in 2013. The electricity supply to its ferroalloy plants is provided through power purchase agreements.
Products
The Vale SA mines produce three types of manganese ore products:
Metallurgical ore – used primarily for the production of ferroalloys
Natural manganese dioxide – suitable for the manufacture of electrolytic batteries
Chemical ore – used in several industries for the production of fertilizer, pesticides, and animal feed, and as a pigment in the ceramics industry
Various types of manganese ferroalloys, such as high-carbon and medium-carbon ferro-manganese and ferro-silicon manganese, are also produced at these mines.
Market dynamics
The markets for manganese ore and ferroalloys are highly competitive. Competition in the manganese ore market occurs in two segments. High-grade manganese ore competes on a global seaborne basis. Meanwhile, low-grade ore competes on a regional basis.
The ferroalloy market is characterized by a large number of participants who compete primarily on the basis of price. The principal competitive factors in this market are the costs of manganese ore, electricity, logistics, and reductants. Vale SA competes with both stand-alone producers and integrated producers that also mine their own ore.
BHP Billiton Ltd. (BHP) has manganese assets in Australia and South Africa. Globe Specialty Metals Inc. (GSM) is the parent company of Globe Metallurgical Inc. that has ferroalloy operations in the US. AMETEK, Inc. (AME) also owns Reading Alloys Inc., which is into ferroalloys in the US.
The SPDR S&P Metals & Mining ETF (XME) is a good way to gain exposure to the metals and mining sector without having to pick individual companies.